Places for the Best Fall Foliage in West Virginia
West Virginia is renowned for its stunning fall foliage, attracting visitors from near and far to witness the vibrant colors that blanket the state. With its vast forests and picturesque landscapes, West Virginia offers a plethora of destinations to experience the beauty of autumn. From scenic drives to hiking trails, there are endless opportunities to immerse yourself in the breathtaking fall scenery. In this article, we will explore the best places for fall foliage in West Virginia, providing you with a comprehensive guide to plan your leaf-peeping adventure.
West Virginia Fall Foliage Progression
To make the most out of your fall foliage trip, it's essential to understand the progression of the changing colors. The timing and intensity of the fall foliage vary each year, depending on weather conditions and elevation. Typically, the fall foliage season in West Virginia spans from late September to early November, with the highest elevations experiencing color change first. Here is a breakdown of the peak foliage locations and their corresponding dates:
Late September:
Spruce Knob

Dolly Sods

Canaan Valley
Late September to Early October:
Mid October to Late October:
Seneca Rocks

Harman's Luxury Log Cabins
Harman's Luxury Log Cabins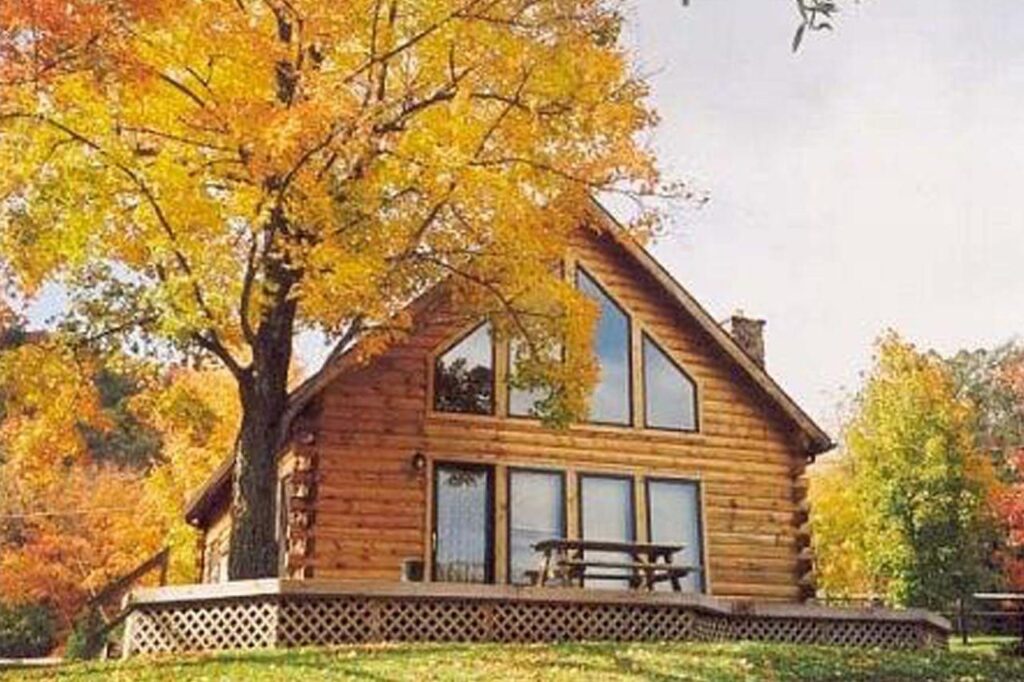 Located in the heart of West Virginia's fall foliage display, Harman's Luxury Log Cabins offer a secluded and picturesque retreat for leaf-peepers. These luxury cabins are surrounded by vibrant reds, yellows, and golds, providing an idyllic setting to enjoy the autumn colors. Each of the 21 cabins features an outdoor deck and a private outdoor hot tub, allowing guests to immerse themselves in the beauty of the fall foliage. Additionally, Harman's offers several on-site hiking trails, providing convenient access to stunning views of West Virginia's fall scenery.
Seneca Rocks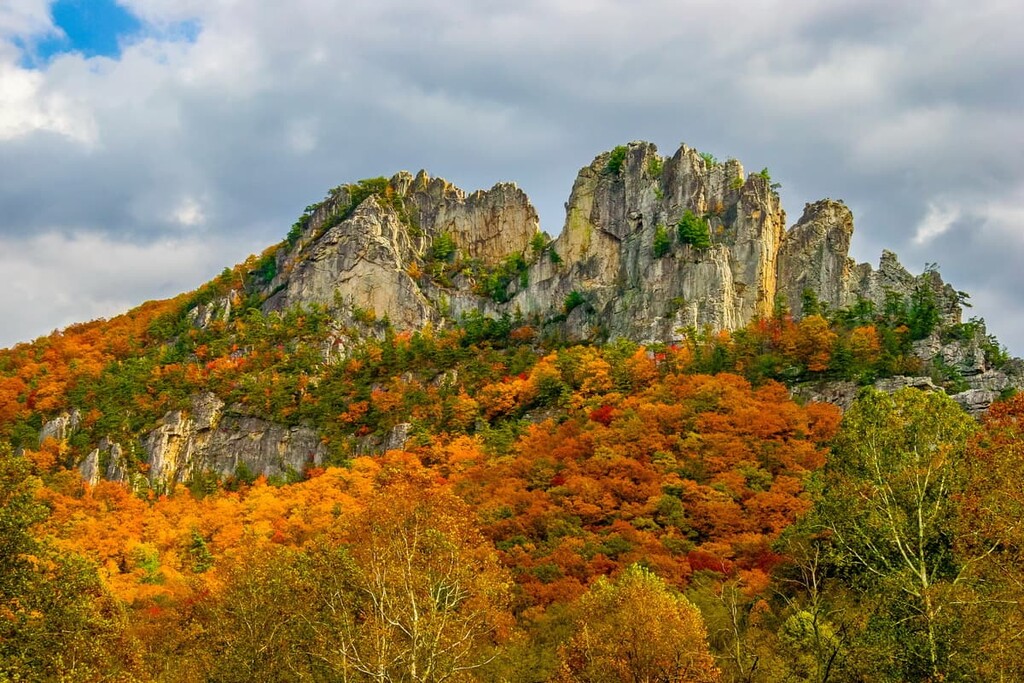 Situated just 11.7 miles from Harman's Luxury Log Cabins, Seneca Rocks is a must-visit destination during the fall foliage season. This natural wonder rises nearly 900 feet above the North Fork River and offers breathtaking panoramic views. Seneca Rocks is located in the Monongahela National Forest and features a hiking trail that scales nearly 700 feet above the ground. The trail is suitable for hikers of all ages and provides an opportunity to witness the vibrant fall colors from a unique vantage point.
Germany Valley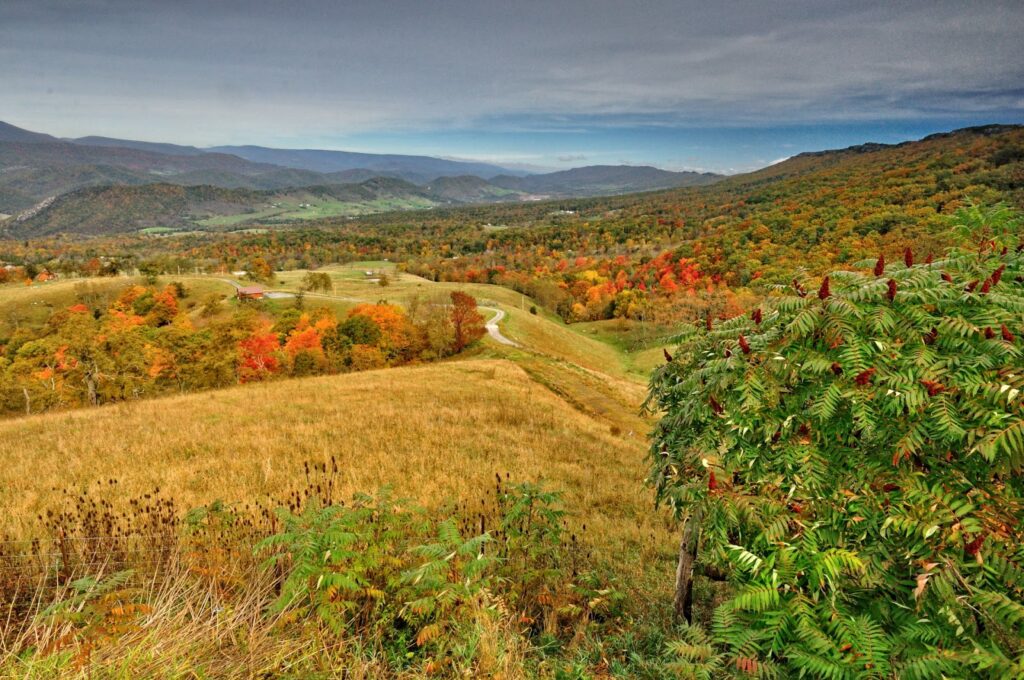 A short drive from Seneca Rocks will lead you to Germany Valley, a sprawling region known for its caves, karsts, and incredible fall foliage. Nestled in the Allegheny Mountains, Germany Valley offers a diverse ecosystem that showcases the vibrant colors of autumn. Exploring this area will reward you with breathtaking sights and unique natural formations, making it an excellent addition to your fall foliage itinerary.
Canaan Valley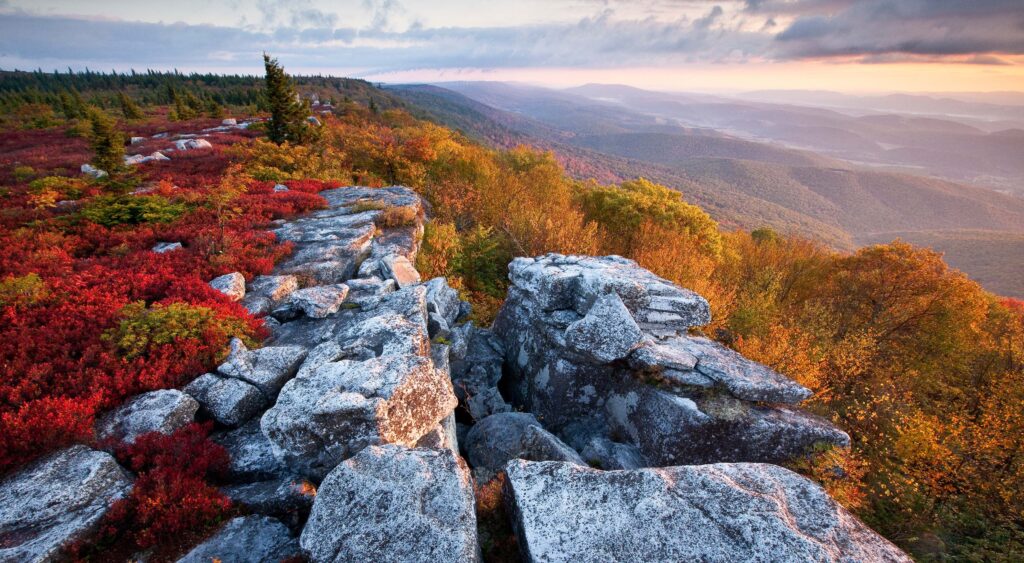 Located in northeastern West Virginia, Canaan Valley is an enchanting destination for fall foliage enthusiasts. This scenic valley is home to a multitude of plant and wildlife species, creating a diverse and vibrant display of colors during the fall season. Designated as a National Natural Landmark, Canaan Valley offers numerous hiking trails ranging from easy strolls to challenging treks. Whether you prefer a leisurely walk or an adrenaline-pumping adventure, Canaan Valley has something for everyone.
Dolly Sods & Bear Rocks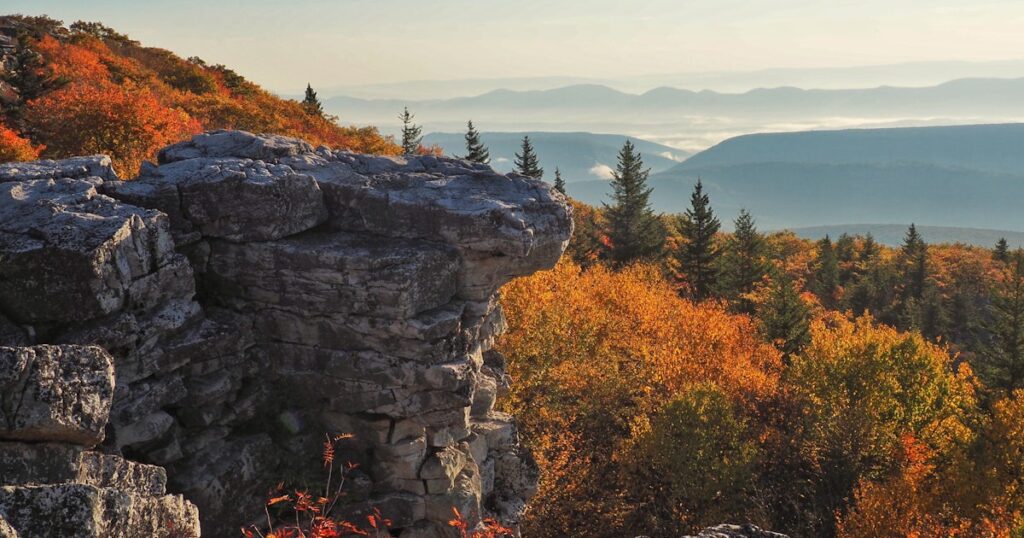 Just a short distance from Harman's Luxury Log Cabins, Dolly Sods and Bear Rocks provide a unique and captivating experience for leaf-peepers. Reaching nearly 4,000 feet in elevation, Dolly Sods boasts a diverse landscape of bogs, rocky plains, and forests. The red leaves of blueberry bushes create a stunning backdrop that must be seen to be fully appreciated. Bear Rocks, an elevated cliff within Dolly Sods, offers sweeping views of mountains and ridgelines adorned with dazzling fall colors. This picturesque location is a photographer's dream and should not be missed during your fall foliage expedition.

West Virginia is a paradise for fall foliage enthusiasts, offering a multitude of destinations to witness the breathtaking colors of autumn. From the secluded luxury of Harman's Log Cabins to the dramatic cliffs of Seneca Rocks and Dolly Sods, each location provides a unique vantage point to experience the beauty of nature's transformation. Plan your visit wisely, taking into account the progression of fall foliage and the timing of peak colors in each area. Embark on a leaf-peeping adventure in West Virginia, and you'll be rewarded with memories and photographs that will last a lifetime.
PLAN A TRIP TO WEST VIRGINIA TODAY!