New Hampshire

New Hampshire: The Gem of New England
New Hampshire, located in the northeastern United States, is a state that boasts natural beauty, rich history, and a vibrant culture. From its stunning landscapes to its significant role in American history, New Hampshire has much to offer residents and visitors alike. In this comprehensive guide, we will explore the state's geography, history, demographics, climate, and more. So, let's embark on a journey to discover why New Hampshire is truly the gem of New England.
New Hampshire, one of the six states in the New England region, is a small state with a big impact. Known for its scenic beauty, New Hampshire is home to picturesque mountains, pristine lakes, and charming coastal areas. The state's rich history dates back to the early European settlements and its role in the American Revolutionary War. With its diverse population, thriving economy, and vibrant culture, New Hampshire offers a high quality of life for its residents.
Geography
Location and Borders
Nestled in the northeastern corner of the United States, New Hampshire is bordered by Massachusetts to the south, Vermont to the west, Maine and the Gulf of Maine to the east, and the Canadian province of Quebec to the north. The state's strategic location provides easy access to major cities like Boston and Montreal, making it a popular destination for both tourists and businesses.
Mountain Ranges and Lakes
New Hampshire is renowned for its majestic mountain ranges, with the White Mountains being the most famous. Mount Washington, the tallest peak in the northeastern United States, is located in the White Mountains and offers breathtaking views and challenging hiking trails. The state is also home to other notable peaks such as Mount Adams and Mount Jefferson.
In addition to its mountains, New Hampshire boasts over 800 lakes and ponds, including the picturesque Lake Winnipesaukee, which spans 71 square miles. These bodies of water provide opportunities for fishing, boating, and other water activities, attracting both locals and visitors.
Coastal Areas and Islands
While New Hampshire has the shortest ocean coastline of any U.S. state, stretching only 18 miles, it is not short on natural beauty. The state's coastline is dotted with sandy beaches, charming seaside towns, and the enchanting Isles of Shoals. Hampton Beach, a popular summer destination, offers a vibrant atmosphere with its boardwalk, amusement rides, and live entertainment.
The Isles of Shoals, consisting of nine small islands, are famous for their rich history and natural beauty. They were once home to a thriving 19th-century art colony and are believed to be the location of buried treasures from the pirate Blackbeard. Today, visitors can explore the islands, take boat tours, and immerse themselves in the area's fascinating maritime history.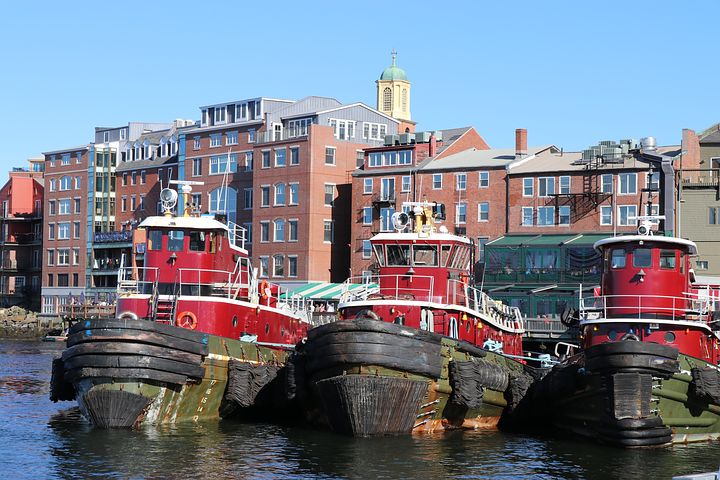 History
Native American Settlements
Before European explorers arrived, New Hampshire was inhabited by various Algonquian-speaking tribes, including the Abenaki. These Native American communities had a distinct culture and religion, and their presence in the region dates back thousands of years. They relied on the abundant natural resources of the land and waterways for their sustenance and livelihood.
European Exploration and Colonization
European explorers, including English and French voyagers, reached the shores of New Hampshire in the early 17th century. David Thompson, an English settler, established one of the first non-indigenous settlements at Odiorne's Point in present-day Rye. The Province of New Hampshire was officially established in 1629 and named after the English county of Hampshire.
Tensions between the British colonies and the crown escalated during the 1760s, leading to acts of rebellion in New Hampshire. In 1774, the colonists seized Fort William and Mary from the British, marking one of the earliest overt acts of defiance. In 1776, New Hampshire became the first of the British North American colonies to establish an independent government and state constitution. It also played a significant role in the American Revolutionary War, contributing troops, supplies, and support to the cause of independence.
Industrialization and Modernization
Following the Revolutionary War, New Hampshire experienced rapid industrialization and population growth. The state became known for its textile manufacturing, shoemaking, and papermaking industries. The Amoskeag Manufacturing Company, located in Manchester, was once the largest cotton textile plant in the world.
However, like many other regions in the United States, New Hampshire's industrial sector declined after World War II. The state's economy diversified to include financial services, education, high-tech industries, and tourism. Today, New Hampshire is known for its thriving service sector, technological advancements, and strong educational institutions.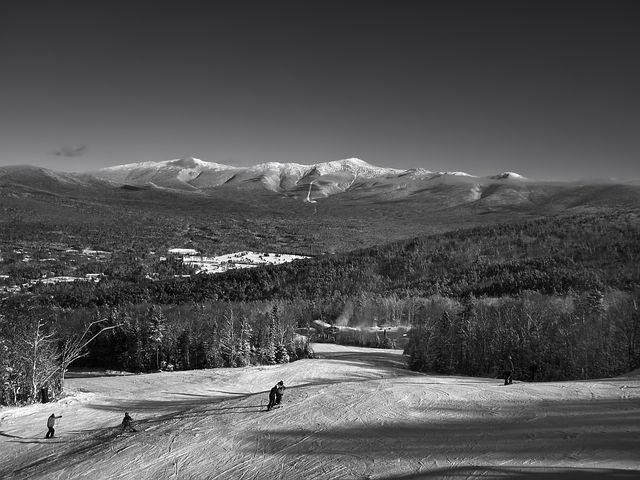 Demographics
Population Growth and Distribution
Over the years, New Hampshire has experienced steady population growth. According to the 2020 census, the state's population stands at 1,377,529 residents, representing a 4.6% increase since the previous census in 2010. The population distribution is concentrated in the southern part of the state, particularly along the Merrimack River Valley and the Seacoast Region. Cities like Manchester, Nashua, and Concord have the highest population densities.
Ethnic Diversity
New Hampshire is predominantly inhabited by White Americans, who make up 92.8% of the population. The state also has a significant African American population, accounting for 1.9% of residents. Native American, Asian, and Hispanic or Latino populations contribute to the state's cultural diversity.
Age Distribution and Gender Ratio
The age distribution in New Hampshire reflects a balance between different age groups. Approximately 18.5% of the population is under 18 years old, while 19.2% is 65 years and over. The gender ratio is fairly even, with females comprising 50.1% of the total population.
Economy
Industries and Employment
New Hampshire's economy is diverse and robust. The state's major industries include manufacturing, healthcare, education, technology, finance, and tourism. Manufacturing, once a dominant sector, has evolved to focus on high-tech manufacturing and precision engineering.
The healthcare and education sectors play a significant role in New Hampshire's economy. The state is home to world-class medical facilities, research institutions, and prestigious universities. These sectors provide employment opportunities and attract professionals from various fields.
Tourism and Recreation
New Hampshire's natural beauty and recreational opportunities make it a popular destination for tourists. The state's outdoor activities, such as hiking, skiing, and camping, draw visitors year-round. The White Mountains, with their stunning landscapes and challenging trails, are a favorite among outdoor enthusiasts. Additionally, the Lakes Region offers opportunities for boating, fishing, and relaxation along its picturesque shores.
The state's rich history and cultural heritage also attract tourists. Historical landmarks, museums, and art galleries provide insights into New Hampshire's past and present. Festivals and celebrations throughout the year showcase the state's vibrant culture and offer a chance to engage with local traditions.
Tax Structure and Economic Stability
New Hampshire is known for its favorable tax climate. It is one of the nine states in the U.S. without an income tax, and it does not levy taxes on sales, capital gains, or inheritance. The state relies heavily on local property taxes to fund education and public services, resulting in a relatively low state tax burden.
Despite its small size, New Hampshire has maintained economic stability and resilience. The state's strategic location, skilled workforce, and commitment to innovation have attracted businesses and contributed to its overall economic success.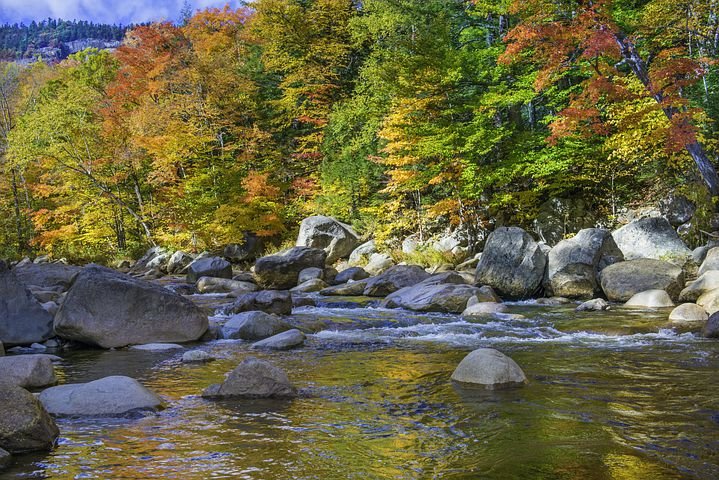 Climate
Four Seasons and Weather Patterns
New Hampshire experiences a humid continental climate, characterized by warm summers and cold winters. The state's four distinct seasons offer a wide range of weather conditions and outdoor activities throughout the year.
In the summer, temperatures typically range from the mid-70s°F to low 80s°F (24-28 °C), providing ideal conditions for outdoor recreation. Fall brings vibrant foliage, attracting leaf peepers from around the world. Winter brings cold temperatures and ample snowfall, making it a haven for winter sports enthusiasts. Spring offers a gradual transition from the cold winter months to the warmth and renewal of the summer season.
Impact of Climate Change
Like many regions across the globe, New Hampshire is facing the effects of climate change. Rising temperatures, changing precipitation patterns, and more frequent extreme weather events pose challenges to the state's environment, economy, and communities.
The ski industry, for example, has been impacted by shorter winter seasons and less predictable snowfall. These changes have led to the contraction and consolidation of ski resorts, affecting local economies and tourism. Efforts are underway to mitigate the effects of climate change and promote sustainable practices in various sectors.
Major Cities and Metropolitan Areas
New Hampshire is home to several vibrant cities and metropolitan areas that offer a range of amenities and opportunities.
Manchester
Manchester, the largest city in New Hampshire, is a bustling urban center known for its vibrant arts scene, diverse dining options, and thriving business community. The city is home to several universities and colleges, contributing to its educational and cultural offerings. Manchester's rich history and architectural heritage can be explored through its museums, historic buildings, and vibrant downtown area.
Nashua
Nashua, located on the southern border of New Hampshire, is the state's second-largest city. It offers a blend of urban amenities and natural beauty, with proximity to the Merrimack River and scenic parks. Nashua's vibrant downtown area features a variety of shops, restaurants, and cultural attractions. The city's strong economy and business-friendly environment make it an attractive destination for professionals and entrepreneurs.
Concord
Concord, the state capital, is a charming city known for its historical significance and natural beauty. The city's downtown area is home to the New Hampshire State House, museums, art galleries, and boutique shops. Concord's location on the Merrimack River and its surrounding parks provide opportunities for outdoor activities and recreational pursuits.
Portsmouth
Portsmouth, situated on the seacoast, is a picturesque city with a rich maritime history. The city's historic downtown area features cobblestone streets, colonial-era buildings, and a vibrant waterfront. Portsmouth is known for its cultural festivals, art scene, and thriving restaurant industry. Visitors can explore the Strawbery Banke Museum, take harbor cruises, or simply enjoy the charm and beauty of this coastal gem.
Education and Healthcare
Educational Institutions and Achievements
New Hampshire boasts a strong education system, with renowned colleges, universities, and research institutions. The state is home to prestigious institutions such as Dartmouth College, the University of New Hampshire, and Saint Anselm College. These institutions contribute to the state's intellectual and cultural vibrancy, attracting students and scholars from around the world.
New Hampshire's commitment to education is reflected in its high school graduation rates and standardized test scores. The state consistently ranks among the top states in educational attainment and student performance.
Healthcare Facilities and Services
New Hampshire offers a comprehensive healthcare system with state-of-the-art medical facilities and renowned healthcare providers. The state is home to several hospitals, including Dartmouth-Hitchcock Medical Center, which is consistently recognized as one of the top hospitals in the nation. The healthcare sector in New Hampshire provides high-quality care and contributes to the overall well-being of its residents.
Cultural Heritage
Arts, Music, and Theater
New Hampshire has a vibrant arts and culture scene, with numerous galleries, theaters, and music venues. The state's cities and towns host art festivals, live performances, and exhibitions throughout the year. From local artists to renowned performers, New Hampshire offers a diverse range of artistic experiences for residents and visitors.
Festivals and Celebrations
New Hampshire celebrates its cultural heritage through various festivals and events. The annual Laconia Motorcycle Week, held in Weirs Beach, attracts motorcycle enthusiasts from around the country. The Hampton Beach Seafood Festival showcases the state's culinary delights, and the Keene Pumpkin Festival sets world records for the number of lit jack-o'-lanterns. These and many other festivals highlight the unique traditions and community spirit of New Hampshire.
Historical Landmarks and Museums
New Hampshire's rich history is preserved in its numerous historical landmarks and museums. The Strawbery Banke Museum in Portsmouth offers a glimpse into the lives of early settlers through its preserved historic houses and exhibits. The Canterbury Shaker Village provides a window into the Shaker community's way of life, showcasing their unique architecture and craftsmanship. Visitors can also explore the Fort Constitution State Historic Site, the Franklin Pierce Homestead, and many other sites that bring the state's history to life.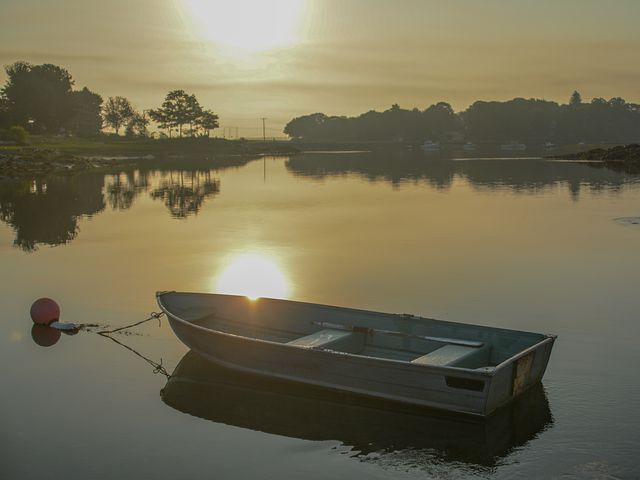 Outdoor Recreation
Hiking and Camping
New Hampshire's diverse landscapes offer a playground for outdoor enthusiasts. The state's abundance of hiking trails, ranging from easy walks to challenging climbs, cater to all skill levels. The Appalachian Trail, which passes through the White Mountains, offers a chance to embark on a multi-day trek and immerse oneself in nature. Camping is also popular in New Hampshire, with numerous campgrounds and state parks providing scenic sites for overnight stays.
Skiing and Snowboarding
With its snowy winters and mountainous terrain, New Hampshire is a haven for winter sports enthusiasts. The state boasts several ski resorts, including Loon Mountain, Bretton Woods, and Cannon Mountain. These resorts offer a variety of slopes for skiers and snowboarders of all abilities. From beginners to experts, there is something for everyone in New Hampshire's winter wonderland.
Water Sports and Beaches
New Hampshire's lakes and seacoast provide ample opportunities for water sports and beach activities. Lake Winnipesaukee, with its crystal-clear waters, is perfect for boating, fishing, and swimming. The seacoast region offers sandy beaches, such as Hampton Beach and Rye Beach, where visitors can soak up the sun and enjoy the ocean breeze. Kayaking, paddleboarding, and sailing are popular water sports that allow people to explore the state's waterways and coastline.
Wildlife and Nature Reserves
New Hampshire's natural beauty extends beyond its mountains and lakes. The state is home to numerous wildlife species, including moose, black bears, and bald eagles. Wildlife enthusiasts can observe these creatures in their natural habitats by visiting wildlife sanctuaries and nature reserves. The White Mountain National Forest, with its extensive trail system, offers opportunities to explore the region's flora and fauna while enjoying the serenity of the wilderness.
In conclusion, New Hampshire truly stands out as a gem in New England. Its stunning landscapes, rich history, and vibrant culture make it a unique and desirable destination. Whether you're seeking outdoor adventures, cultural experiences, or a high quality of life, New Hampshire has something to offer everyone. So, come and discover the wonders of the Granite State for yourself.
PLAN A TRIP TO NEW HAMPSHIRE
FIND THINGS TO DO IN NEW HAMPSHIRE