The Best Winter Activities in North Dakota
Escape to North Dakota this winter and discover a captivating wonderland of natural beauty and exhilarating outdoor activities. From snow-covered landscapes to historic sites, this state offers a plethora of opportunities for adventure and exploration. Whether you're seeking thrilling winter sports or peaceful nature retreats, North Dakota has it all. In this article, we will guide you through the top winter activities in North Dakota, ensuring you make the most of this enchanting season.
Huff Hills Ski Area: Shred the Slopes in Mandan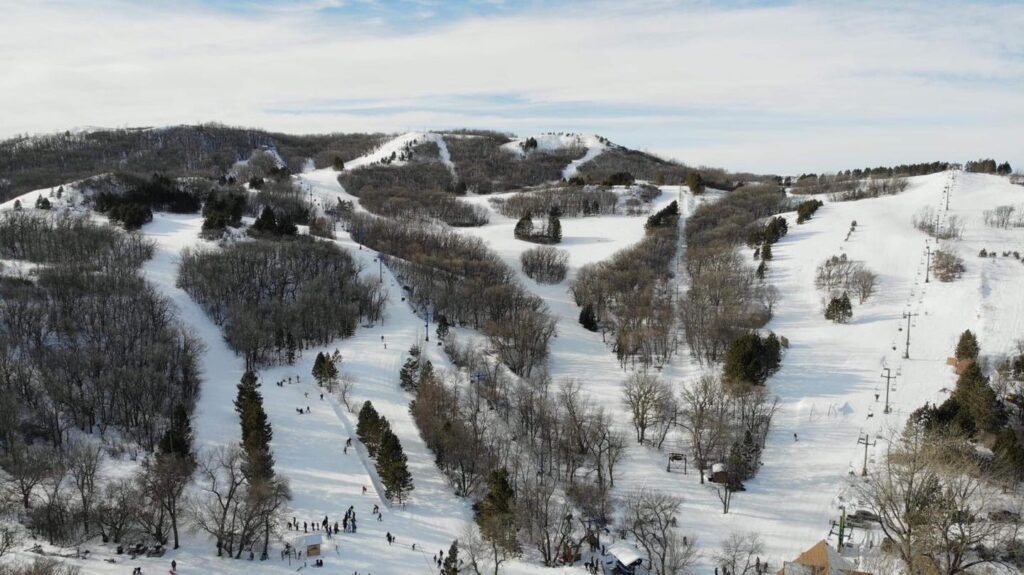 Located in Mandan, Huff Hills Ski Area is a winter playground for snow enthusiasts of all skill levels. This ski resort offers a wide range of amenities and activities that promise an unforgettable winter experience.
Hit the Slopes: Strap on your skis or snowboard and conquer the exhilarating downhill runs at Huff Hills. With a variety of trails catering to different skill levels, both beginners and experienced riders can enjoy the thrill of gliding through the snow.
Terrain Park: For those seeking an extra adrenaline rush, the "Green Lift" at Huff Hills features a terrain park with ramps, kickers, rails, and other exciting features. Test your skills and show off your tricks on this challenging course.
Ski and Snowboard Rentals: Don't worry if you don't have your own gear. Huff Hills has a convenient rental shop offering high-quality skis, snowboards, and boots. They also provide waxing, repairs, and helmet rentals, ensuring you have everything you need for a fantastic day on the slopes.
Ski Patrol: Safety is a top priority at Huff Hills. A dedicated team of volunteer professionals in the ski patrol ensures that guests can enjoy their time on the mountain with peace of mind.
Bottineau Winter Park: Discover Winter Wonderland in the Turtle Mountains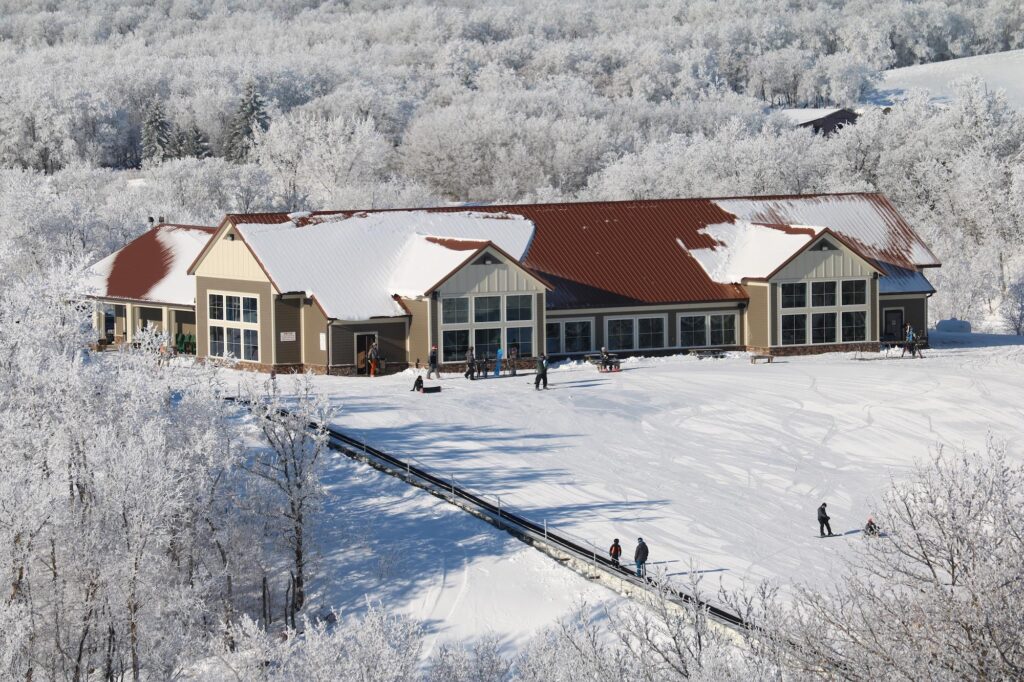 Escape to the scenic Turtle Mountains and immerse yourself in the winter wonderland of Bottineau Winter Park. This family-friendly ski resort offers a range of activities and amenities for a memorable winter getaway.
Skiing and Snowboarding: With eight trails and a variety of lifts, Bottineau Winter Park caters to skiers and snowboarders of all levels. Whether you're a beginner or an expert, you'll find the perfect run to suit your skills and enjoy the thrill of carving through the snow.
Bunny Hill and Learning Area: If you're new to skiing or snowboarding, head to the bunny hill equipped with a conveyor belt, handle lift, and tow rope. This dedicated area provides a safe and supportive environment for beginners to learn and practice their skills.
Trailside Lodge: Warm up and refuel at the Trailside Lodge, where you can enjoy delicious meals, hot beverages, and panoramic views of the surrounding winter landscape. The lodge also offers rental equipment and professional ski and snowboard lessons for those looking to improve their technique.
Cross-Country Skiing and Snowshoeing: Explore the picturesque trails surrounding Bottineau Winter Park on cross-country skis or snowshoes. Glide through the serene winter forest and witness the beauty of nature up close.
Cross Ranch State Park: Winter Adventures Along the Missouri River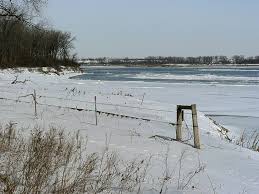 Located along the majestic Missouri River, Cross Ranch State Park is a winter paradise for outdoor enthusiasts. With miles of trails and cozy accommodations, this park offers a range of activities for a memorable winter escape.
Winter Hiking and Snowshoeing: Lace up your boots or strap on a pair of snowshoes to explore the nearly 17 miles of scenic trails at Cross Ranch State Park. Immerse yourself in the breathtaking winter landscape as you hike along the frozen river or through the snow-covered prairies.
Cabins and Yurts: Extend your stay and cozy up in one of Cross Ranch's charming cabins or yurts. These rustic accommodations provide the perfect retreat after a day of outdoor adventures. Enjoy the warmth of a crackling fire and the tranquility of the winter wilderness.
Ski and Snowshoe Rentals: Don't have your own gear? No problem. Cross Ranch offers ski and snowshoe rentals, including sizes for both adults and children. Equip yourself with the necessary gear and set off on a winter exploration of the park's stunning trails.
Scenic Trails: Cross Ranch State Park boasts four beautiful winter trails:

Matah "River" Trail: Perfect for cross-country skiing, this 2.9-mile trail offers picturesque views of the frozen Missouri River.
Ma-ak-oti "Old Village" Trail: Explore this 4.2-mile trail on snowshoes, immersing yourself in the history and natural beauty of the area.
Cottonwood Trail/Gaines Trail: Fully groomed for skiing, this 5.4-mile trail winds through the snow-covered cottonwood trees, providing a magical winter experience.
Levi's Trail: Another groomed skiing trail, Levi's Trail stretches for 2.2 miles, offering a peaceful and serene winter escape.
Theodore Roosevelt National Park: Winter Badlands Adventure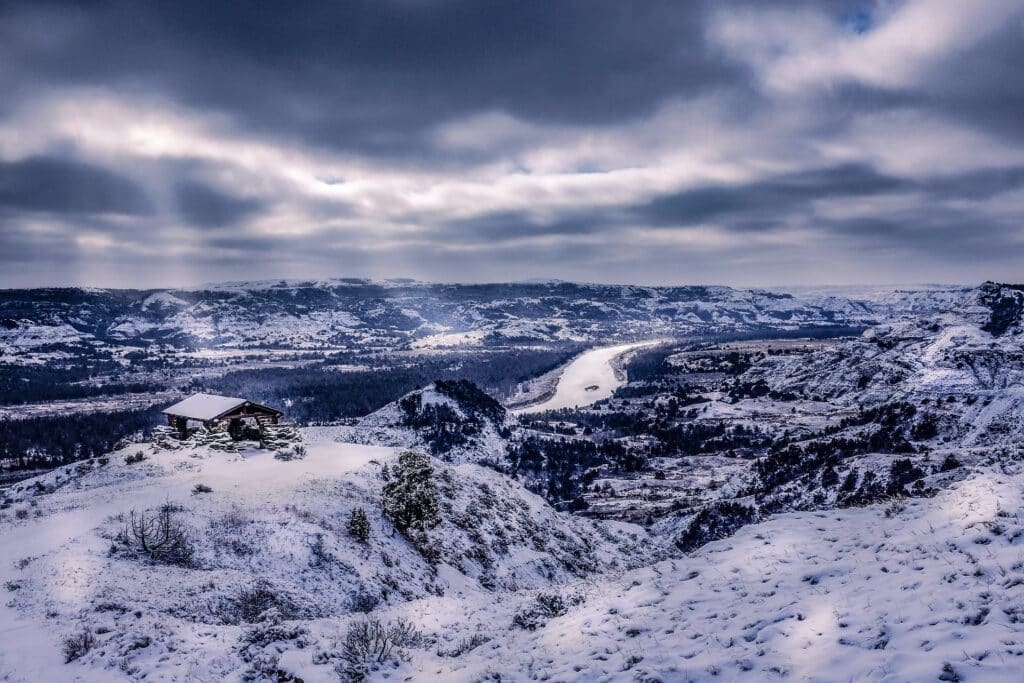 Step into the winter wonderland of Theodore Roosevelt National Park, where the rugged Badlands landscape takes on a new and captivating beauty during the winter months. Explore the park's trails, witness wildlife in their natural habitat, and embrace the serenity of this national treasure.
Winter Hiking and Snowshoeing: Lace up your hiking boots or strap on a pair of snowshoes to embark on an unforgettable winter adventure. Theodore Roosevelt National Park offers a variety of trails suitable for different skill levels, allowing you to immerse yourself in the tranquility of the winter landscape.
Wildlife Viewing: Winter is an excellent time to observe wildlife in the park. Spot majestic bison, graceful mule deer, and elusive coyotes as they navigate the snow-covered terrain. Keep your camera ready to capture these incredible moments.
Scenic Drives: Take a leisurely drive through the park's scenic routes and witness the breathtaking winter vistas. The North and South units of the park offer picturesque drives, allowing you to soak in the beauty of the snow-dusted Badlands.
Visitor Centers and Ranger Programs: Visit the park's visitor centers to learn more about the history, geology, and wildlife of Theodore Roosevelt National Park. Participate in ranger-led programs and gain a deeper understanding of this remarkable natural wonder.
Canadian Pacific Holiday Train: Spreading Joy and Giving Back
Experience the magic of the Canadian Pacific Holiday Train as it rolls into North Dakota, spreading joy and raising awareness for local food banks. Join in the festivities, enjoy live performances, and contribute to a worthy cause.
The Holiday Train Tour: The Canadian Pacific Holiday Train is an annual event that captivates audiences across North Dakota. This festive train, adorned with thousands of dazzling lights, travels through various towns, delivering cheerful performances and collecting donations for local food banks.
Live Performances: Get into the holiday spirit with live performances by talented artists. Enjoy the captivating tunes of musicians such as Alan Doyle and Kelly Prescott as they entertain the crowd with their enchanting holiday repertoire.
Support Local Food Banks: One of the main objectives of the Holiday Train is to raise awareness and support for local food banks. Attend the event, bring non-perishable food items or monetary donations, and contribute to this meaningful cause.
Christmas in the Park: Festive Delights in Minot
Indulge in the magical atmosphere of Christmas in the Park, a beloved annual event in Minot. With enchanting light displays, festive activities, and a joyful ambiance, this event is a must-visit during the winter season.
Light Displays: Witness the park come alive with an array of mesmerizing light displays. Stroll through the illuminated pathways and marvel at the creative and dazzling arrangements that evoke the spirit of the holiday season.
Family-Friendly Activities: Christmas in the Park offers a range of activities for the whole family to enjoy. From ice skating and sledding to carousel rides and visits with Santa Claus, there's something for everyone to experience the joy and excitement of the holiday season.
Food and Entertainment: Treat yourself to delicious seasonal treats and warm beverages available at the event. Immerse yourself in the festive atmosphere with live entertainment, carolers, and other delightful performances that will leave you with cherished memories.
Holiday Lights on Main: A Captivating Winter Wonderland in Mandan
Experience the magic of the Holiday Lights on Main, a captivating winter attraction in Mandan's Dykshoorn Park. Immerse yourself in a world of enchanting displays, vibrant lights, and festive cheer.
Innovative Displays: Holiday Lights on Main features a collection of innovative and larger-than-life light displays that will ignite your holiday spirit. From traditional motifs to modern creations, these displays create a magical ambiance throughout the park.
Engaging Community Space: Dykshoorn Park transforms into a central community space that invites visitors to explore and enjoy the holiday season. The park offers a vibrant and engaging atmosphere that stimulates the senses and fosters a sense of community.
Free Event: Holiday Lights on Main is a free event open to the public. Gather your loved ones, bundle up, and embark on a delightful winter adventure through this captivating display of lights. The event runs from November 26 to January 7, weather permitting.
Chmielewski's Christmas Corner: A Dazzling Light Display in Fargo
Immerse yourself in the enchanting world of Chmielewski's Christmas Corner, a spectacular light display that has become a beloved tradition in Fargo. Marvel at the dazzling array of lights, handmade decorations, and whimsical figures that bring joy to all who visit.
Handmade Light Display: Chmielewski's Christmas Corner is a labor of love that has been enchanting visitors for almost 16 years. The entire display, except for the lights, is handmade by the Chmielewski family, showcasing their creativity and dedication to spreading holiday cheer.
Whimsical Figures: Explore the yard and be greeted by whimsical figures, including a ferris wheel and a soon-to-be ski lift. Take a leisurely stroll and capture memorable photos amidst the magical atmosphere created by these charming and animated displays.
Community Spirit: Chmielewski's Christmas Corner is a testament to the community spirit of Fargo. The Chmielewski family's display has grown so large that they enlisted the help of their neighbors' lawns to accommodate the ever-expanding spectacle. This collaboration embodies the warmth and generosity of the holiday season.
Snowmobiling and Cross-Country Skiing: Explore North Dakota's Winter Trails
North Dakota offers an extensive network of snowmobile and cross-country skiing trails, allowing outdoor enthusiasts to immerse themselves in the beauty of winter. Whether you prefer the thrill of snowmobiling or the tranquility of cross-country skiing, North Dakota has something for everyone.
Snowmobile Trails: North Dakota boasts over 2,800 miles of snowmobile trails that traverse the state's diverse landscapes. From the rolling hills of Bottineau and Renville counties to the picturesque Missouri Valley Trails, snowmobilers can embark on thrilling adventures and witness the stunning winter scenery.
Cross-Country Skiing: Strap on your skis and explore the many cross-country skiing trails that wind through North Dakota's parks and forests. Glide along the groomed trails of Bottineau, McHenry, and Ward counties, or venture into the untouched wilderness of the Sakakawea Fence Stretchers Trails. These trails offer a peaceful and invigorating winter experience for all skill levels.
Embrace the Outdoors: Unleash the Adventurer Within
Don't let the cold temperatures deter you from embracing the great outdoors. North Dakota offers a wealth of exhilarating activities that will invigorate your spirit and create lasting memories.
Winter Hiking and Snowshoeing: Explore the state's parks, forests, and even the rugged Badlands through winter hiking and snowshoeing. Follow established trails or blaze your own path as you immerse yourself in the tranquility of the winter landscape.
Lake Metigoshe State Park: Hike and fat-bike through the scenic Lake Metigoshe State Park. The park's trails wind through the woodlands and provide stunning views of the frozen lake. After your adventure, warm up in one of the park's cozy cabins or yurts.
Downhill Skiing: Experience the thrill of downhill skiing at Huff Hills Ski Area or Bottineau Winter Park. These resorts offer a range of slopes and trails suitable for beginners and experts alike. Feel the rush as you carve through the snow and revel in the breathtaking winter scenery.
Ice Fishing: Test your angling skills and try your luck at ice fishing on North Dakota's frozen lakes. Devils Lake and Sakakawea are particularly popular destinations for ice fishing, where you can catch yellow perch, northern pike, and walleye. Enjoy the serenity of the frozen lake as you wait for the fish to bite.
Sledding and Skating: Indulge in classic winter activities like sledding and skating. Many cities in North Dakota offer outdoor skating rinks, while parks provide ample sledding hills for children and adults to enjoy. Bundle up, grab your sled or skates, and let the laughter and excitement fill the winter air.
PLAN A WINTER GETAWAY TO NORTH DAKOTA
North Dakota is a winter wonderland waiting to be explored. From thrilling ski adventures to tranquil nature retreats, this state offers a diverse range of activities and attractions for all winter enthusiasts. Embrace the beauty of the season, unleash your adventurous spirit, and create cherished memories in the breathtaking landscapes of North Dakota.