Discovering South Dakota: An Autumnal Adventure in America's Heartland
South Dakota, known for its rich Native American heritage and stunning landscapes, becomes especially captivating during the fall season. The state's diverse natural beauty, from the expansive plains to the rugged Black Hills, is brilliantly highlighted by the fiery fall foliage, making South Dakota in the fall a great time to explore.
Immerse Yourself in the Fall Foliage
South Dakota's Foliage Hotline
To fully appreciate South Dakota's autumn beauty, timing is key. The state's fall colors typically peak between September and October. However, for a more precise timeline, you can call South Dakota's foliage hotline at 800-732-5682 to get the latest updates on color changes.
Best Spots for Fall Colors
Experience the majestic hues of fall in South Dakota!
Black Hills National Forest
The Black Hills National Forest is a prime location for leaf-peeping. With over a million acres of forest and mountain landscapes, it offers a stunning display of fall colors. The forest's high elevation also means that it often receives fall colors earlier than most states.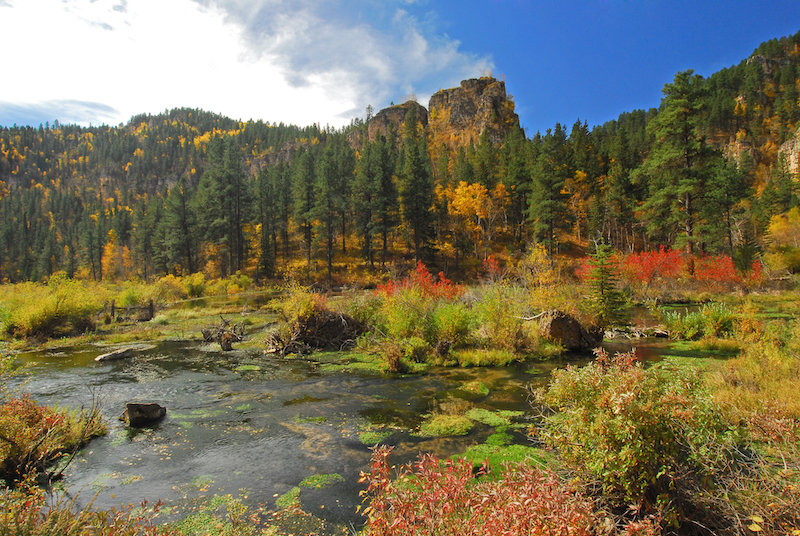 Spearfish Canyon
Spearfish Canyon is another must-visit spot for fall color hunting. The towering limestone canyon walls are beautifully contrasted by vibrant aspens and birch trees, creating a mesmerizing autumnal scene.
Vanocker Canyon
For a less crowded leaf-peeping experience, consider a drive through the Vanocker Canyon. This secluded 17-mile road takes you through a landscape exploding with fall colors, offering an intimate encounter with South Dakota's autumn beauty.
Explore the National Parks
Uncover the wonders of South Dakota's National Parks!
Badlands National Park
Badlands National Park offers a unique view of South Dakota's natural beauty. The park is home to an array of eroded buttes and pinnacles, offering a stark contrast to the surrounding prairies. Fall is a fantastic time to explore the park, with cooler temperatures making for comfortable hikes.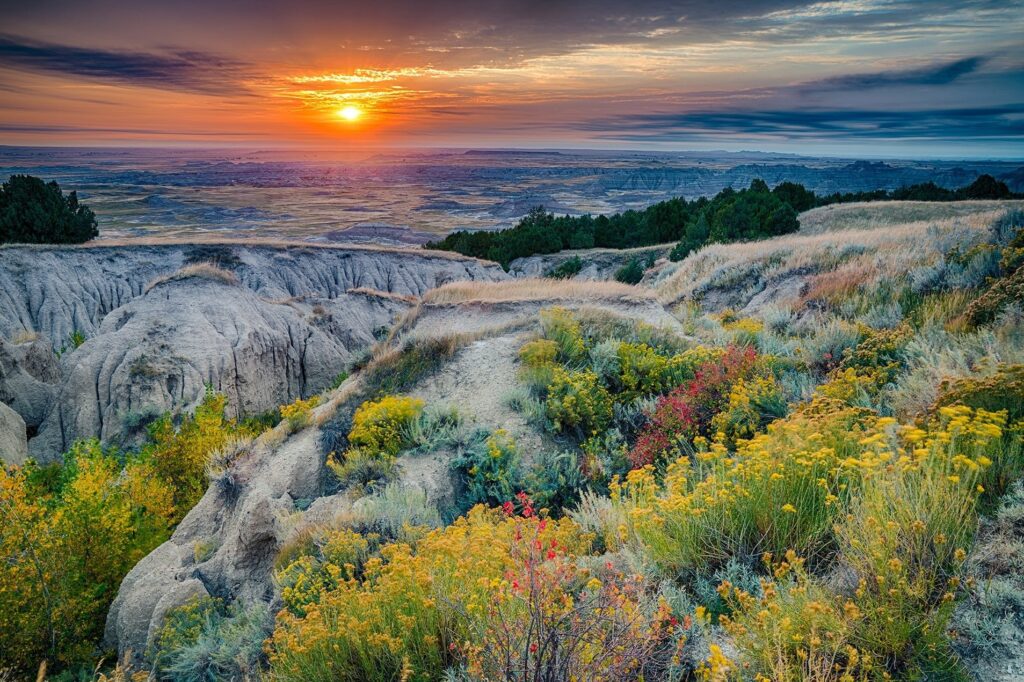 Wind Cave National Park
For a change of scenery, venture into the subterranean world of Wind Cave National Park. The park offers guided tours through the cave's intricate boxwork, frostwork, and popcorn formations. It's an exhilarating autumn activity that lets you escape the unpredictable fall weather.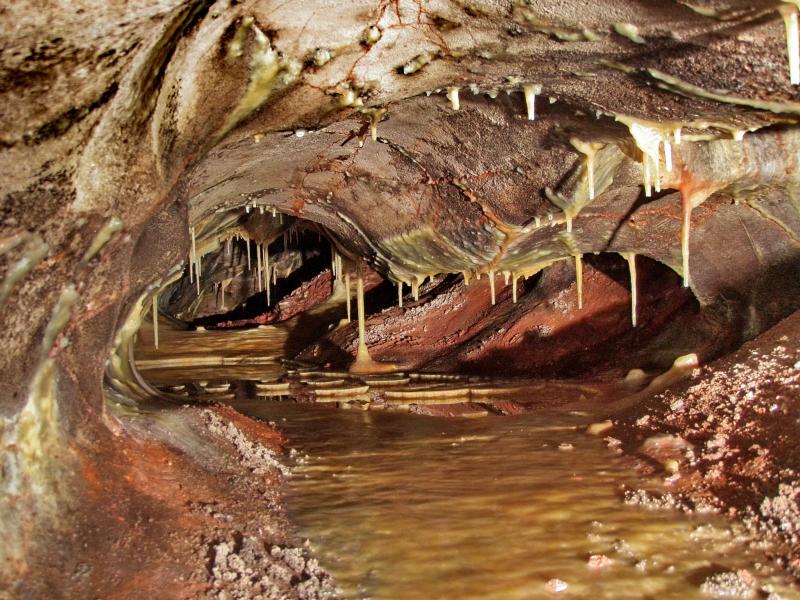 Custer State Park
Custer State Park is another must-visit destination in the fall. The park's diverse ecosystem, highlighted by rolling hills, granite peaks, and serene lakes, is beautifully accentuated by the fall colors.
Experience Iconic Drives
Hit the road and soak in the vibrant hues of fall!
Peter Norbeck Scenic Byway
The Peter Norbeck Scenic Byway is a 66-mile double loop encompassing the famous Needles Highway and Iron Mountain Road. These roads are renowned for their breathtaking views and sharp twists and turns.
Needles Highway
The Needles Highway is a 14-mile road within Custer State Park that offers an unforgettable fall drive. The mix of green pine trees, orange aspens, and towering granite peaks creates a stunning autumnal canvas.
Iron Mountain Road
Iron Mountain Road, another part of the Peter Norbeck Scenic Byway, offers magnificent fall views of Mount Rushmore. Its sharp turns and low tunnels add an adventurous twist to your leaf-peeping excursion.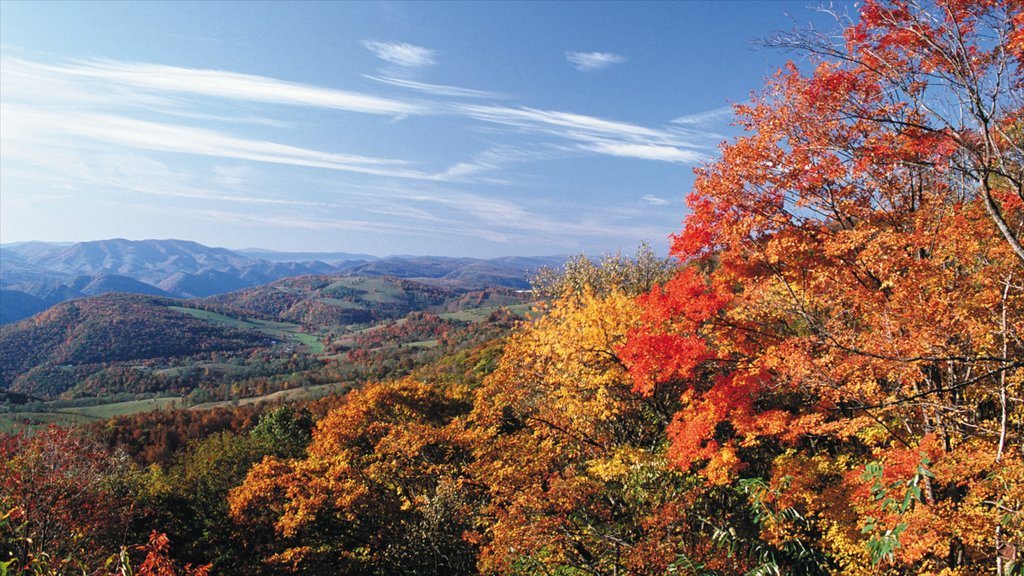 Embrace the Outdoors: Hiking and Picnicking
Enjoy the crisp fall air with outdoor activities!
Hiking Trails
Little Elk Creek Trail
For a leisurely hike, consider the Little Elk Creek Trail. This easy 5-mile trail runs along a creek, offering plenty of opportunities for your furry friends to cool off.
Boulder Hill Trail
For a moderate hike with great views, try the Boulder Hill Trail. This 3.3-mile loop takes you through stunning aspen groves that radiate golden colors during the fall.
Crow Peak Trail
If you're up for a challenge, Crow Peak Trail is a must-try. This 5.9-mile trail takes you to the summit of Crow Peak, offering panoramic views of the Black Hills.
Picnic Spots
Spring Creek Picnic Area
The Spring Creek Picnic Area is a tranquil retreat where you can enjoy a picnic amidst the fall colors. The soothing sounds of the creek add to the area's charm.
Jenny Gulch Picnic Area
Jenny Gulch Picnic Area offers a serene spot for a picnic, overlooking the stunning Pactola Reservoir. After your meal, you can explore the area's shoreline or try your hand at fishing.
Dalton Lake Picnic Area
Dalton Lake provides a peaceful setting for a picnic. This isolated spot lets you enjoy the sounds, sights, and smells of fall in the forest.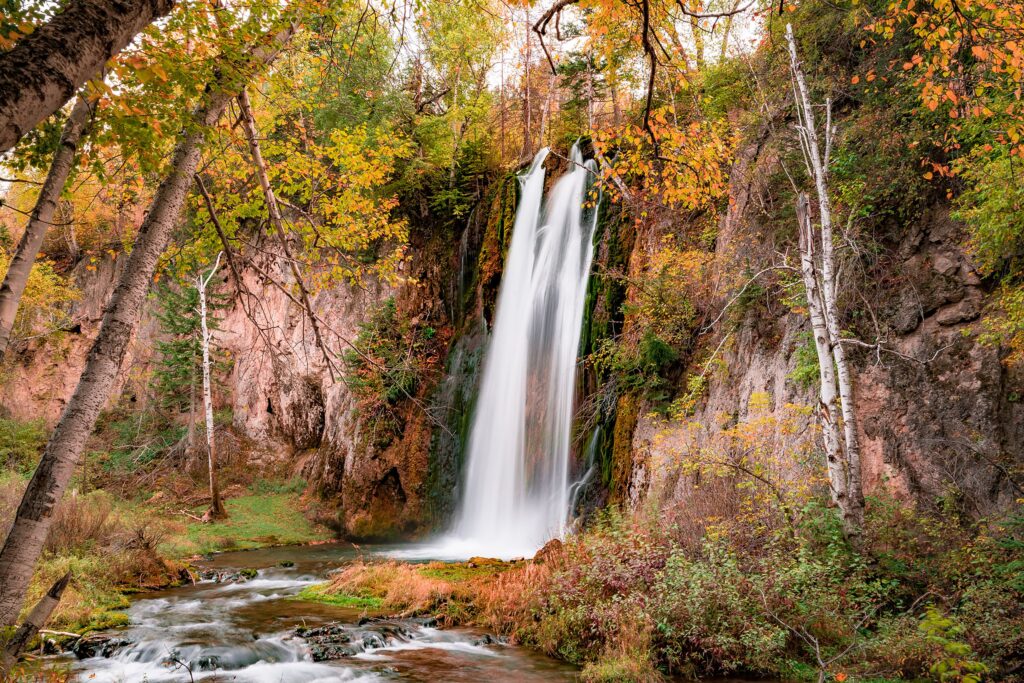 Autumn Events and Festivals
Celebrate the season with exciting events and festivals!
From the Buffalo Roundup at Custer State Park to the South Dakota Film Festival in Aberdeen, South Dakota hosts a variety of events that celebrate the state's culture and the fall season. Be sure to check out the Black Hills Powwow and Expo in Rapid City for a vibrant display of Native American art and performances.
Hunting Season in South Dakota
Embrace the spirit of the season with hunting!
Autumn in South Dakota also marks the start of hunting season. The state is renowned for its pheasant hunting, offering some of the best opportunities in the nation. Whether you opt for a guided hunt or a DIY trip, hunting is a quintessential South Dakota fall activity.
Sample Local Cuisine
Savor the flavors of fall with South Dakota's local cuisine!
From hearty stews to freshly baked pies, South Dakota's local cuisine offers comforting dishes that perfectly compliment the fall season. Don't miss the chance to sample some local wines and craft beers, which often feature seasonal flavors.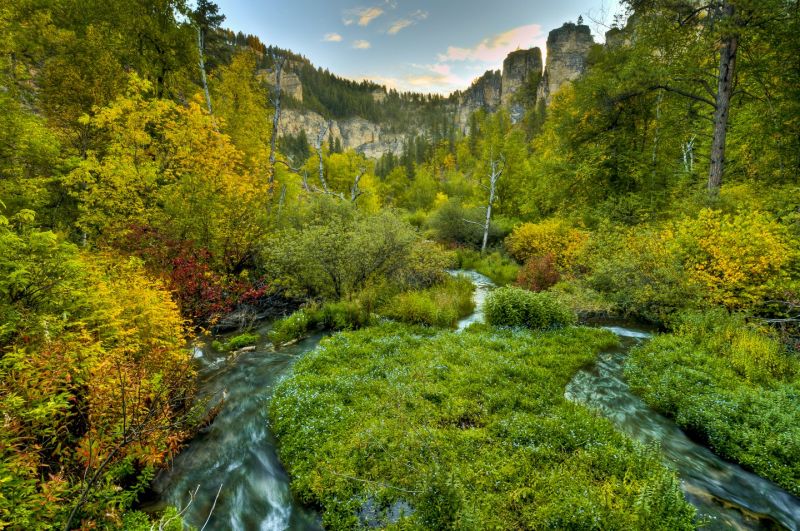 Photography Opportunities
Capture the stunning colors of fall!
South Dakota's fall colors provide ample opportunities for photography. From the golden aspens of the Black Hills to the vibrant reds and oranges of Spearfish Canyon, there are plenty of stunning scenes to capture. Be sure to bring your camera along on your autumn adventures.
Wildlife Viewing
Experience South Dakota's abundant wildlife!
Autumn is an excellent time for wildlife viewing in South Dakota. As the temperatures cool, animals become more active, providing plenty of opportunities to spot bison, deer, elk, and a variety of bird species.
Enjoy a Cozy Stay
End your day with a cozy stay at a local accommodation!
After a day of exploring, nothing beats the comfort of a cozy accommodation. South Dakota offers a range of options, from luxury hotels to rustic cabins, ensuring a comfortable stay that complements your autumn adventures.
VISIT SOUTH DAKOTA!