Famous Food From New Mexico You Should Enjoy
If you're curious as to what you should eat while in New Mexico, the answer is clearly the traditional dishes!c From the top-rated eateries in Santa Fe to the renowned burger spots in Hatch, discover the Land of Enchantment one delicious bite after another!
New Mexican cuisine has a unique flavor that is a mix of Native American, Spanish, and Mexican cultures. Popular dishes in New Mexico are similar to those found in other parts of the southwest US, however, people from New Mexico will emphasize that it is not the same as southwestern cuisine.
Ingredients native to the area, modifications to certain circumstances, and the combination of diverse practices, customs, and flavors have all contributed to forming the food of New Mexico. Take chiles, for example; these are grown by local farmers and are a major factor in adding flavor to New Mexican cuisine.
Additionally, virtually every meal found on the menu has a distinct history behind it. While some of the facts may be up for discussion, it is clear that the New Mexican cuisine has progressed due to the combination of locally sourced ingredients and the creativity of those who use them.
In contrast to other U.S. cities, such as San Francisco, New York, and Boulder, that are renowned for their food scene, most of the best New Mexican restaurants provide great food at an affordable price. These local, family-run establishments are not luxurious; however, they serve some of the tastiest New Mexican cuisine. Therefore, we have included some of our favorite budget-friendly restaurants in our list of suggestions.
A Sauce Made with Green Chile
The Land of Enchantment is renowned as the global hub for chile peppers! Unsurprisingly, they are the most integral element of New Mexican cuisine, and Hatch chiles reign supreme. In order to be deemed "Hatch," these mild- to medium-spicy peppers must be propagated in the Hatch Valley or town, and are the favored preference for Green Chile Sauce.
The unripened green chile is the primary component in any legitimate New Mexico recipe. Many restaurants in the region that offer traditional New Mexican cuisine have their own take on green sauce. This sauce is usually composed of garlic, onions, roasted chiles, and other seasonings. The result is a thick, smoky, salsa-like concoction that has a slight tang and can be added to numerous New Mexican dishes.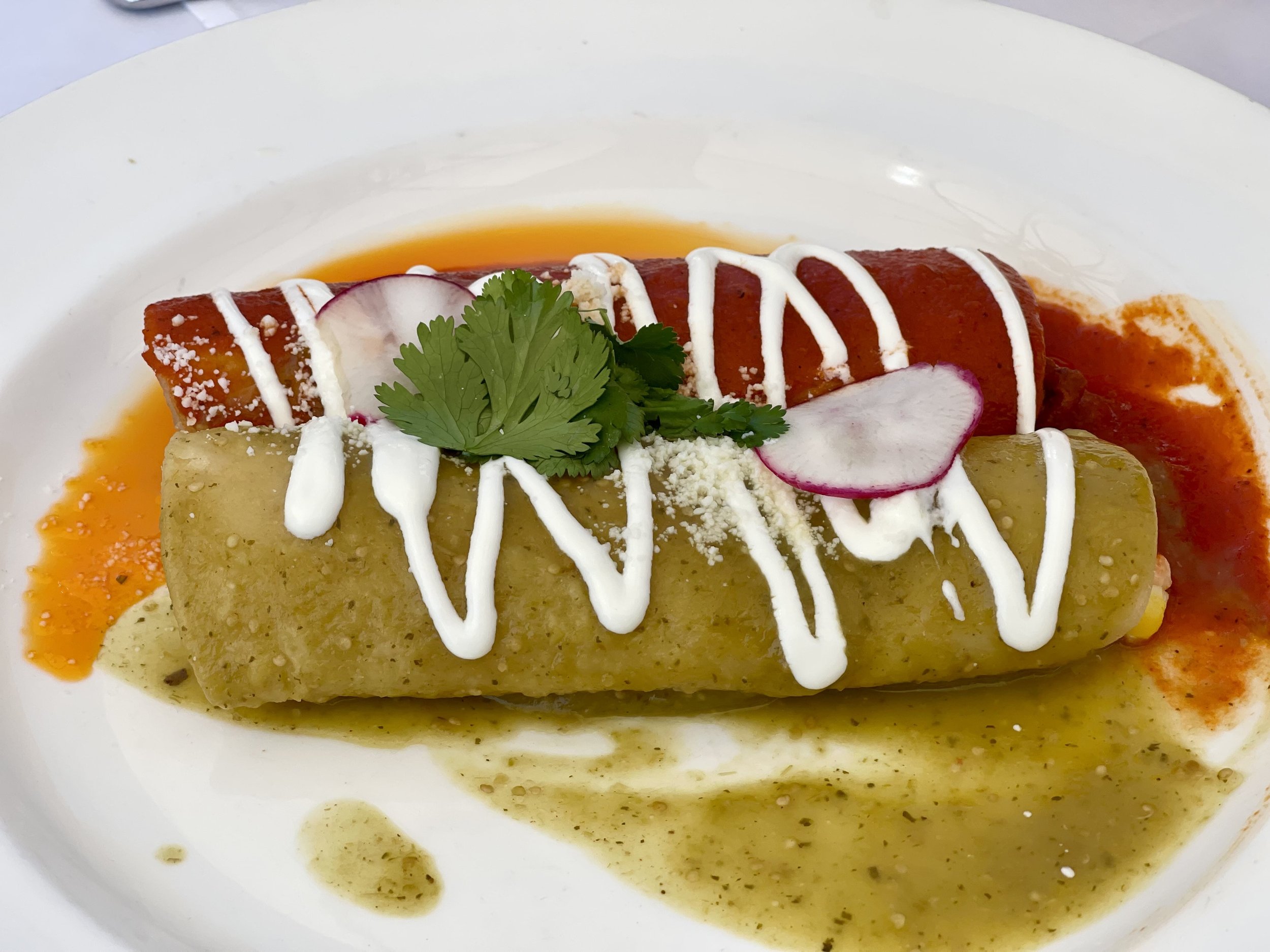 When you opt for "Christmas", you'll get a 50/50 mixture of Green Chile Sauce and Red Chile Sauce.
Creating a Red Chile Sauce
A red chile sauce is a delicious element to add to any dish. It can be prepared easily at home by blending together a variety of spices. To make the base of the sauce, one should start with dried red chiles, which are then soaked in hot water to soften them. Once the chiles have softened, they are blended together with garlic, cumin, oregano, and other seasonings. The resulting paste can then be used as the base for the sauce. Additional ingredients, such as tomatoes, onions, and olive oil, can be added to create a unique flavor. The sauce can then be simmered until it reaches the desired consistency.
The other fundamental sauce of classic New Mexican cooking, Red Chile Sauce, uses dried red chile pods instead of fresh or roasted chiles. When green chiles mature, they turn red and the outer layer toughens, rendering them difficult to peel and consume.
The dehydrated pods are processed into a powder that is a deep red hue and cooked down with a broth, garlic, onions, and spices to create a thick, flavorful, and velvety sauce.
From the northernmost to the southernmost regions of New Mexico, chile sauce blankets all sorts of dishes. When it comes to the official state cuisine, you'll most likely be asked: "Red or green chile sauce?" If you're undecided, you can opt for the "Christmas" option of having half and half.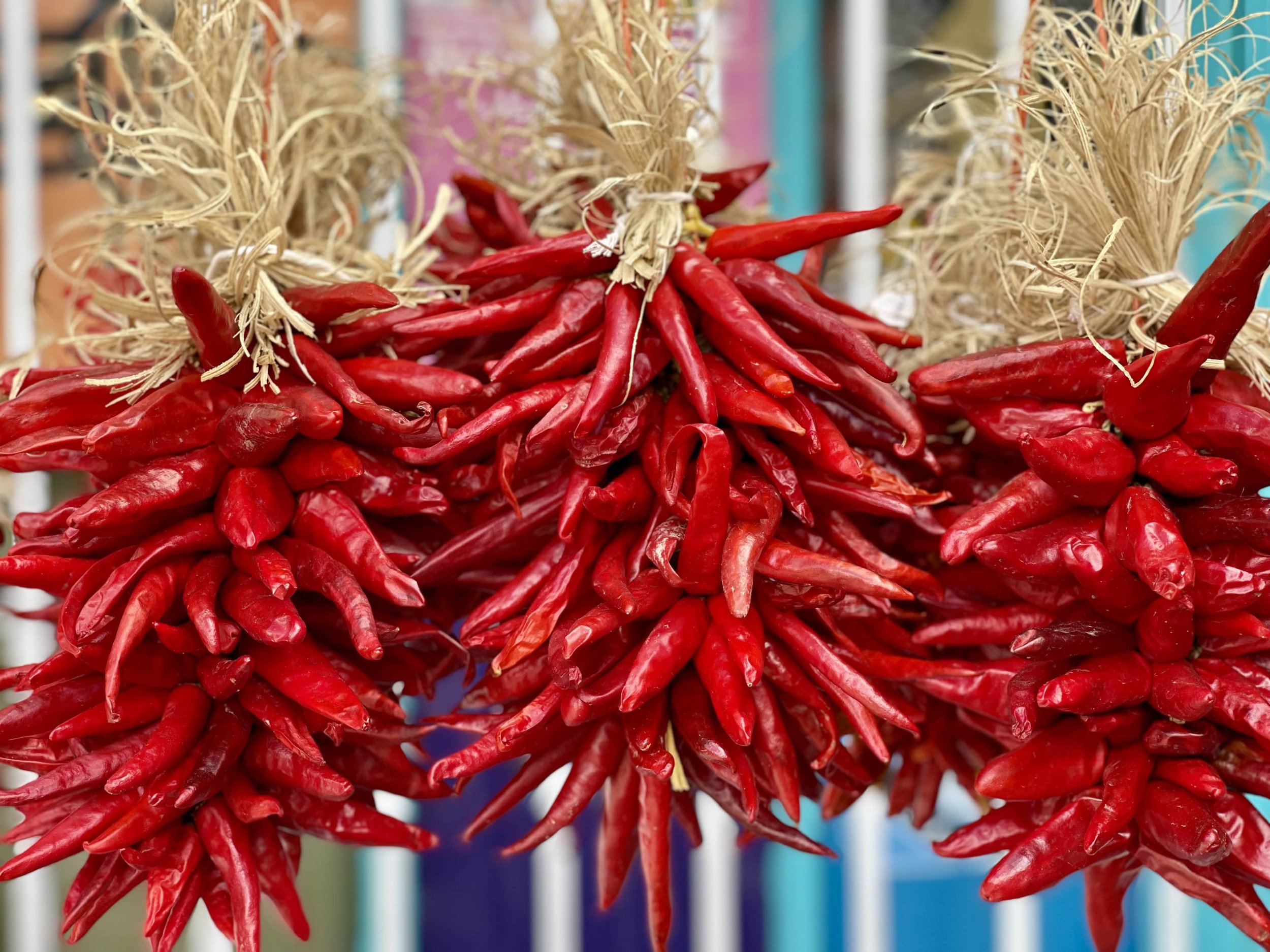 These chile ristras have been dried to a red color.
Huevos Rancheros: A Traditional Mexican Breakfast Dish
A traditional Mexican breakfast dish, Huevos Rancheros consists of fried eggs served on tortillas and topped with a spicy sauce. The dish is typically accompanied by refried beans and Mexican-style salsa. It is a popular dish in Mexican restaurants around the world and can be modified to accommodate a variety of tastes.
The Spanish term Huevos Rancheros can be translated as "ranch eggs." This traditional Mexican dish of fried eggs, tortillas, and beans was once an essential part of the diet of ranch workers in Mexico. Now, it has become a beloved Southwestern food, a staple of New Mexican cuisine. As one of the most popular Mexican foods, Huevos Rancheros continues to be enjoyed by many.
Finding a breakfast spot in New Mexico without some kind of Huevos rancheros on the menu is a difficult task. For this dish, many recipes opt for blue corn tortillas instead of the more common yellow. Topping it off with red chile sauce and melted cheese makes for a tasty way to begin your day!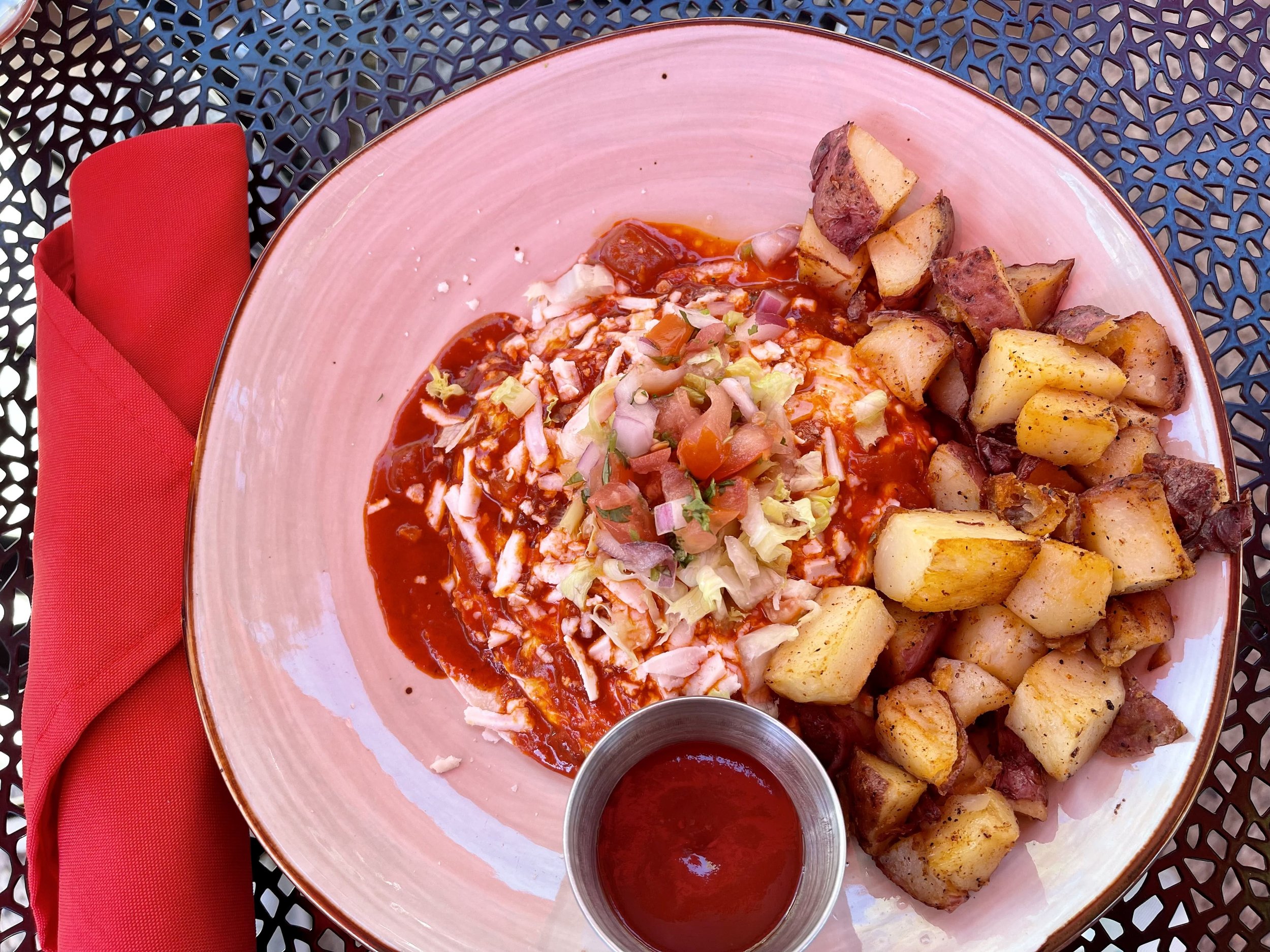 This tasty dish is enjoyed by many in the area.
Chile Peppers Filled with Deliciousness
Chile rellenos, a classic Mexican dish, is made up of chile peppers which are filled with a variety of ingredients. The peppers are then deep-fried and served with a sauce. The filling can range from cheese, meats, vegetables, or a combination of several of these ingredients. This dish is popular in many Latin American countries and has become a staple of Mexican cuisine.
Chile Rellenos, or peppers that have been filled, have their roots in Mexico. In the 1600s, nuns from Puebla invented a stuffed chile known as chile en nogada, which was a large pepper stuffed with meat and served with a walnut-based cream sauce. As time passed, people began to stuff these chiles with numerous different ingredients, from sardines to cinnamon and even nuts. Now, in present-day New Mexico, Chile Relleno has its own distinct interpretation that is separate from its original ancestor.
When dining at a New Mexican restaurant, chefs usually prepare Chile Rellenos by stuffing a whole pepper with cheese, coating it in egg batter, and deep-frying it. However, vegans should take note that this dish can also be filled with meat. It is a customary dish that many chefs enjoy customizing in various ways, even when served in upscale eateries.
In my opinion, no matter where you go in New Mexico, you will not find a bad Chile Relleno. Lambert's Restaurant and Bar in Taos serves a special variety of stuffed chiles with bison and a gluten-free coating for an amazing flavor. Delightful!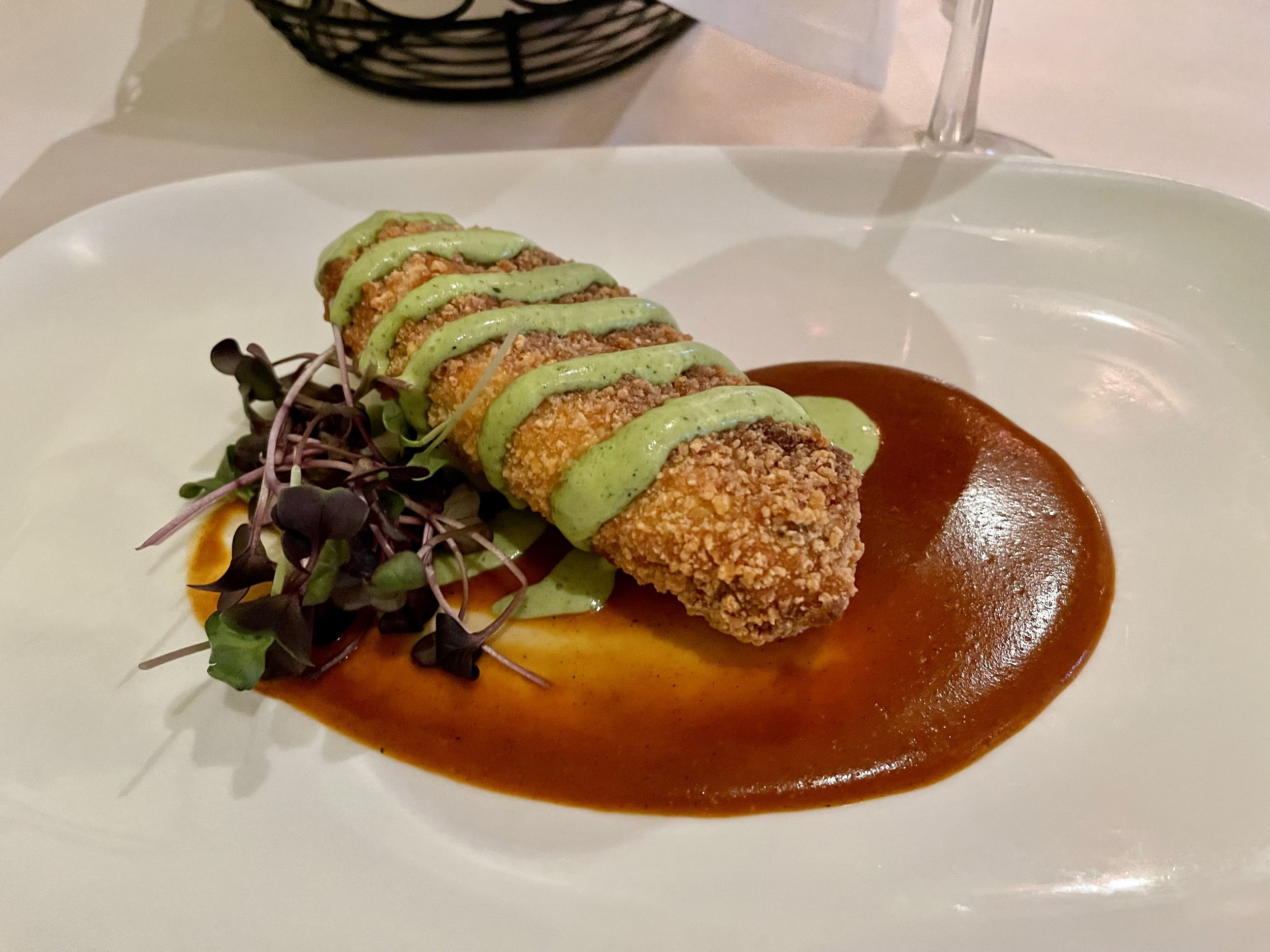 A Dish of Spicy Pork
Carne Adovada is a traditional dish of spicy pork. It is made with pork that is marinated in a blend of ingredients such as chili peppers, garlic, oregano, cumin, and vinegar. The marinade is then simmered in a pot until the pork is cooked through. This flavorful dish is popular in New Mexico and other parts of the American Southwest.
Carne Adovada is a stew of pork cooked in red chile sauce. The spiciness can vary, but it should be cooked until the pork is extremely tender. This dish can be eaten alone or as a stuffing for enchiladas, burritos, or sopaipillas.
A distinctive New Mexican food, Carne Adovada, is a beloved dish that can be difficult to find outside of the state. In New Mexico, it is especially popular in Albuquerque rather than Santa Fe. For those who come across pork chop adovada, it is not a stew, but a chop that has been marinated in red chile.
Mary & Tito's, an Albuquerque eatery, offers 8 Carne Adovada dishes. If you're looking for a budget-friendly option in New Mexico, this is it. The restaurant has an unpretentious atmosphere, but it remains reliably true to its roots.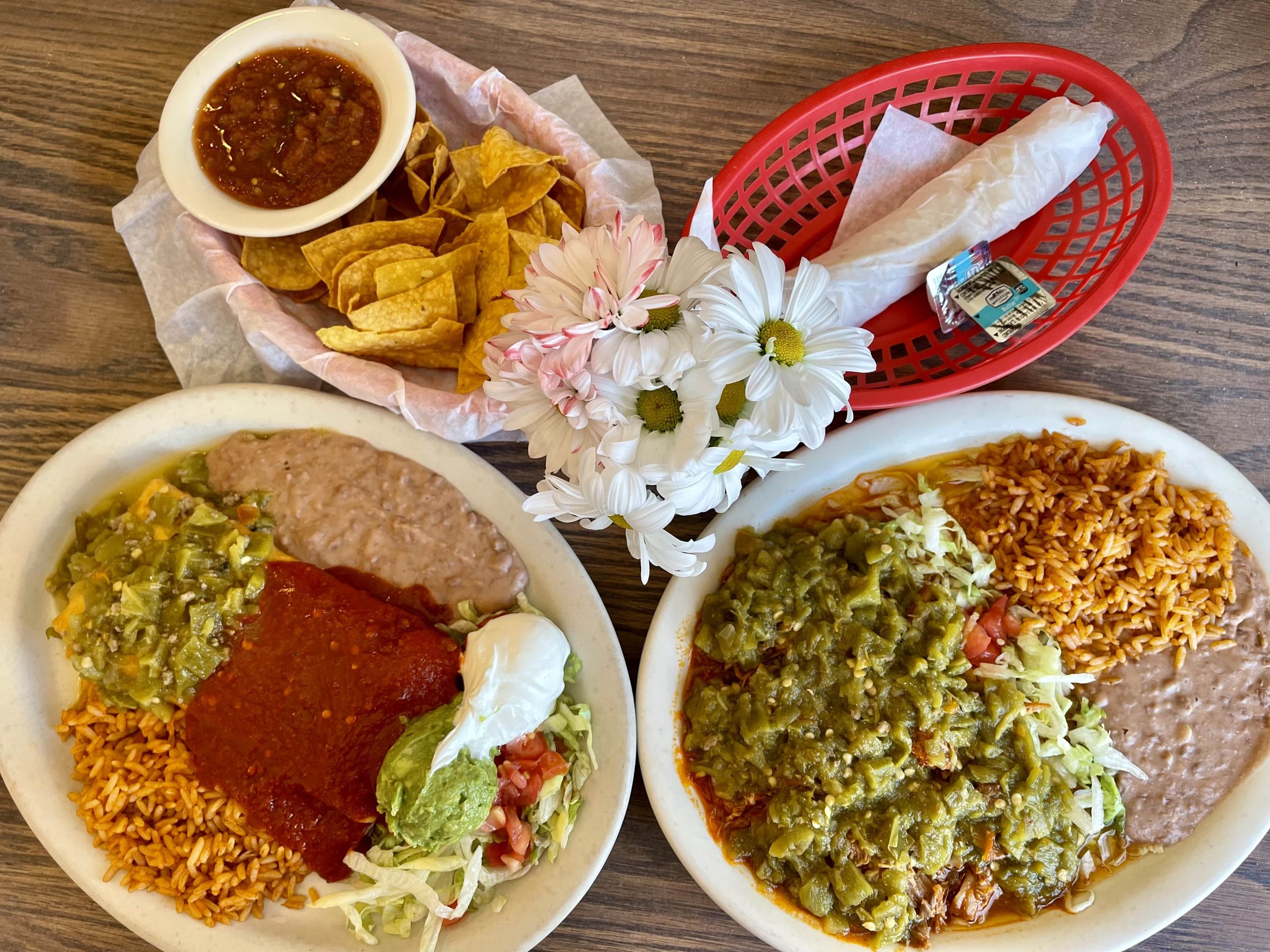 A Burrito for the Morning Meal
A breakfast burrito is a great way for people to start off their day. Combining a variety of ingredients, it's a tasty way to get your morning meal. It can be made with a variety of fillings, such as scrambled eggs, bacon, sausage, peppers, potatoes, and cheese. Wrapped in a warm tortilla, the burrito is sure to be a hit. This dish is a great way to ensure you get your breakfast in, no matter how busy your morning is.
For breakfast, the people of New Mexico seem to have a love affair with the Breakfast Burrito. The ingredients used in the filling can vary, but all are usually topped with chile sauce. This delectable dish has become a part of the culture in New Mexico to the point that the Department of Tourism has put together a Breakfast Burrito Byway of more than fifty stops.
The origin of the Breakfast Burrito is a topic of debate, with some legends claiming it was first served at the Santa Fe restaurant Tia Sophia's. Nevertheless, the restaurant itself does not make this claim, as there has been a long history of people eating things wrapped in a flour tortilla for breakfast.
A Stew of Green Chile
This dish is a classic that features green chiles as its main ingredient. It is a savory, yet spicy concoction that is sure to tantalize the taste buds. The stew combines the heat of the green chiles with the sweetness of onions and garlic for a delightful blend of flavors. The cooked vegetables are then simmered in a flavorful broth that is sure to please any palate. Serve with warm, crusty bread for a delightful meal.
Green Chile Stew, similar to its Mexican sibling Chile Verde, requires several hours of simmering so that the pork is incredibly tender. The main distinction between the New Mexico version and its renowned Colorado counterpart? The chiles!
In the state of New Mexico, many eateries that specialize in regional cuisine may offer Green Chile Stew with fresh flour tortillas as an hors d'oeuvre or an accompaniment. When cooked in a residential kitchen, this traditional dish is commonly served as the main course. It is the ideal meal to warm up with on a chilly evening.
I really enjoy versions of New Mexican chile stew that use roasted green chiles instead of raw, which tends to make the stew look more brown than green. Two places that make amazing versions of this stew are Palacio Cafe in Santa Fe and High Noon Restaurant & Saloon in Albuquerque.
The hue of Green Chile Stew typically comes from the roasted green chiles that are used in its preparation.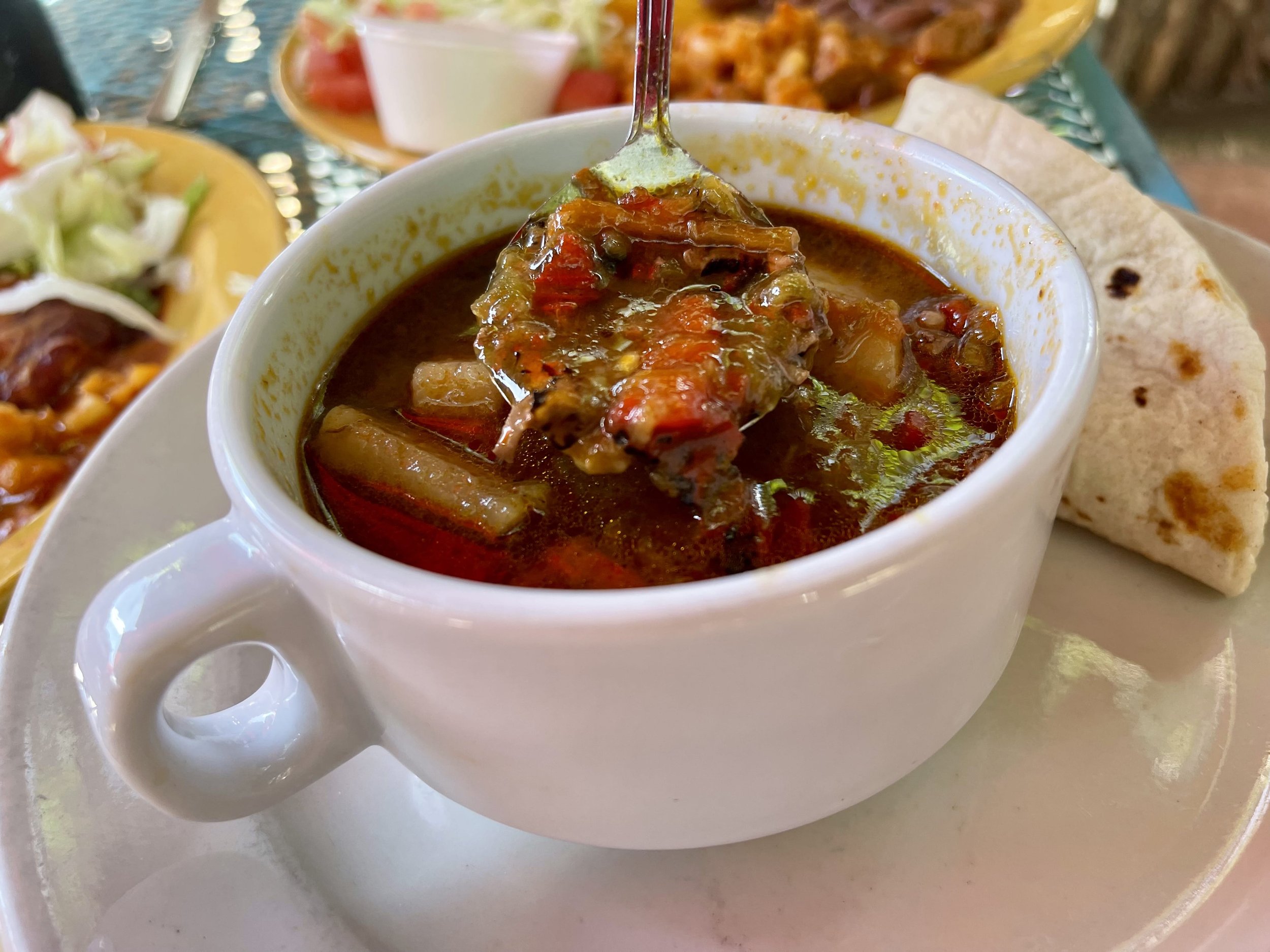 The stew is usually brown in color due to this ingredient.
PLAN A TRIP TO NEW MEXICO
Deliciousness of a Green Chile Cheeseburger
Making a green chile cheeseburger is an enjoyable experience that is sure to tantalize your taste buds. This delectable burger is a combination of a juicy patty, melted cheese, and the unique flavor of green chiles. As soon as you take a bite, you will be savoring its scrumptiousness.
When it comes to iconic food from New Mexico, Green Chile Cheeseburgers are a must-mention. Basically, it's a cheeseburger that has been topped with chopped Hatch green chiles. However, some New Mexican chefs get creative and add chiles to the meat, use whole roasted chiles, or even top it with Green Chile Stew.
If you're a fan of New Mexican cuisine, the state's board of tourism has created the Green Chile Cheeseburger Trail for you to explore. Some of the notable spots include Sparky's in Hatch, The Original Owl Bar and Cafe and the Buckhorn Tavern in San Antonio, and Atrisco Cafe & Bar in Santa Fe. The Owl Cafe in ABQ is also worth checking out. Moreover, you can find a great Green Chile Cheeseburger at a lot of breweries in Albuquerque that serve food.
Enchiladas with Red Sauce Stacked High
In New Mexican cuisine, you can find many varieties of enchiladas. These dishes often contain red chiles, green chiles, meats, cheeses, vegetables, beans, blue corn tortillas, or yellow corn tortillas. One of the most popular local specialties is Enchiladas Montadas, otherwise known as Red Stacked Enchiladas.
Rather than rolling the filling in a traditional tortilla and topping it with sauce, these enchiladas are made by dipping the tortillas into red chile sauce and laying them flat. Cheese is then placed between the layers and they are stacked one on top of the other. To finish, a fried egg is placed on the top. Both The Plaza Cafe located in downtown Santa Fe and its neighbor Cafe Pasqual's, serve delicious stacked enchiladas.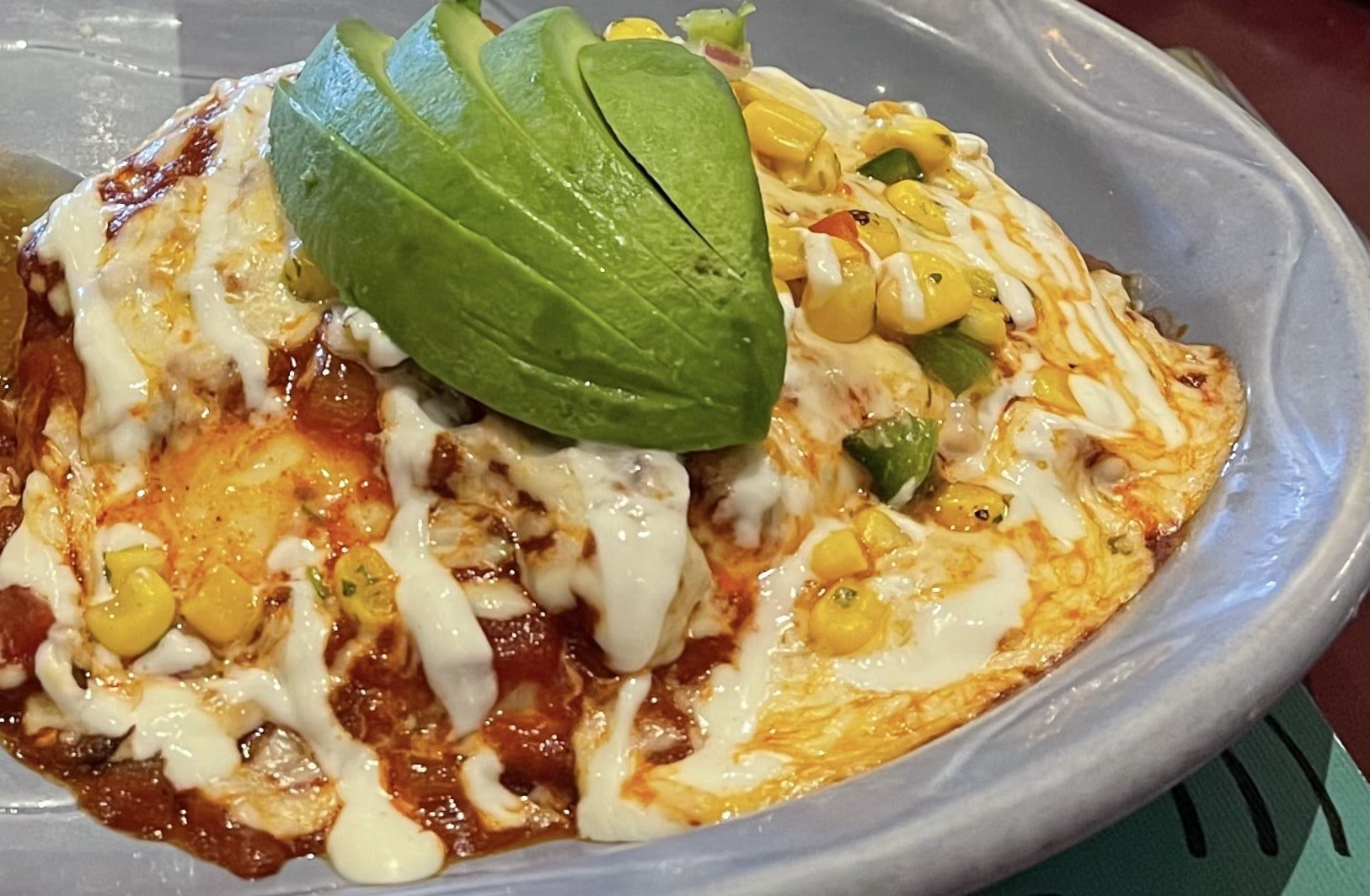 An incredibly cheesy version of Red Stacked Enchiladas, more commonly known as Enchilada Montadas.
Tamale Dishes
Tamales are a type of traditional dish commonly found in Central and South America. Made with masa, a corn-based dough, and various types of fillings, they can be served either as a savory or sweet treat. Tamales are usually steamed in a corn husk or banana leaf, giving them a unique flavor and texture. They are often served as part of a meal, or as snacks.
New Mexico has adopted Tamales as one of its staple foods. This traditional Mexican dish consists of stuffing masa (corn meal) with shredded meat and mole sauce and cooking it in steam-filled banana leaves or corn husks. Different recipes may be found, but the basics remain the same.
In both New Mexico and Mexico, the majority of tamales are wrapped in corn husks. A specialty of Oaxaca, these tamales are usually filled with mole and then wrapped in banana leaves, becoming a popular street food in the region.
In the Land of Enchantment, red chile sauce is a frequent replacement for mole. Chefs in the area sometimes opt for local blue corn meal in place of the traditional masa. As for me, I find that the best tamales have a substantial proportion of meat to masa, and The Shed in Santa Fe nails it!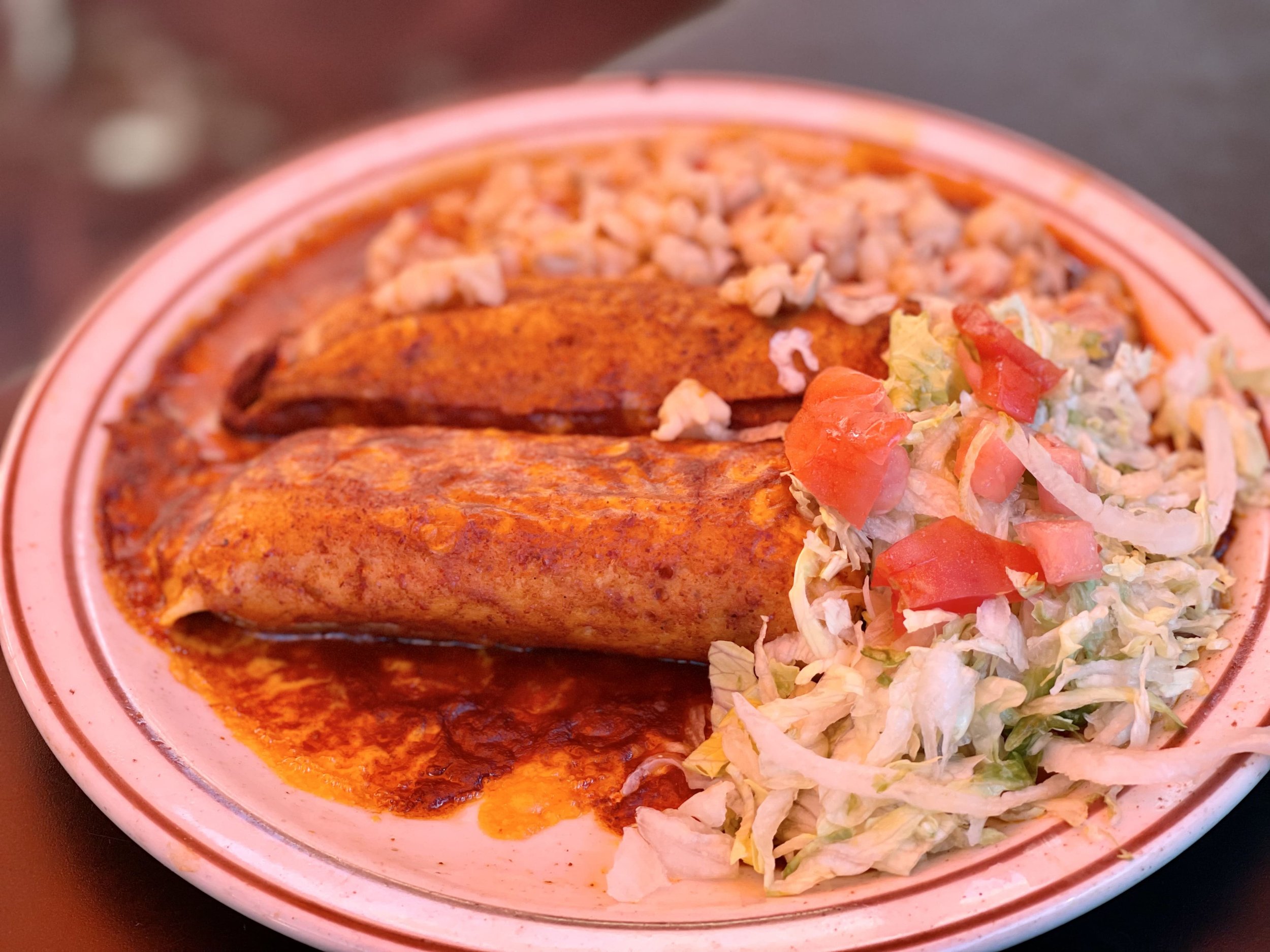 Legumes
Many cultures around the world have been cooking with legumes for centuries. These versatile ingredients are available in a variety of shapes and colors, and are commonly used in soups, stews, casseroles, and salads. Not only are they a great source of protein and fiber, but legumes are also low in fat and high in nutrients. When cooked properly, they can serve as a delicious and nutritious addition to any meal.
New Mexico reveres beans as one of their two official state vegetables (the other being chiles). People typically consume them as a side dish, though the most popular varieties (pinto, black, and refried) can often be found as the main course or as a replacement for meat in vegetarian recipes.
The glory of beans doesn't only extend to its status as a state vegetable. It is also a necessary component of the "Three Sisters," the triumvirate of corn, beans, and squash that was esteemed by indigenous Americans as the provider of life.
A Traditional Mexican Stew called Posole
This dish is a traditional Mexican stew that has been around for centuries. It is made with pork or chicken, hominy, and a variety of spices and vegetables. The ingredients are simmered together to create a flavorful and comforting meal. This dish is often served during festive occasions such as holidays and birthdays. It has become popular in other countries and cultures as well. Posole is a delicious and hearty dish that is sure to please.
Authentic New Mexican cuisine includes Posole, which uses hominy as its main ingredient. Usually served as an accompaniment to beans, it can also appear as an appetizer in a Posole stew. Gringo Pozole from Mexico, on the other hand, is more often used as the main course and is typically accompanied with a generous helping of cabbage and condiments.
My penchant for Posole is such that, even though beans are highly esteemed in New Mexico, I sometimes opt for more of the dish instead. I have never been able to find New Mexico-style Posole away from the state, and it's so delicious that this is my solution for getting as much as I can while I can!
The consistency of Posole varies from a soup-like consistency to a thicker, stew-like consistency.
Fry Bread: An Indigenous Dish
Fry bread is a type of food with roots in the Indigenous cultures of North America. This snack or side dish is made of dough that is deep-fried in oil or lard. It can be eaten plain or topped with jam, honey, sugar, or other sweet toppings. Fry bread is a beloved staple of many Indigenous communities.
Fry Bread, a traditional food of New Mexico, has been around since 1844. It was developed during the Long Walk, a period of relocation of Native Americans from Arizona to New Mexico, as a way of obtaining sustenance using flour, sugar, and lard.
The recipes for the traditional Pueblo bread of New Mexico are still being used by the Pueblo people today. Its texture is light and fluffy, and it is approximately the size and shape of a plate. We especially enjoyed the freshly-made Fry Bread at the Taos Pueblo (a great place to go) and the Indian Pueblo Cultural Center in Albuquerque.
The Delicious Sopaipilla
The traditional South American treat of sopaipilla is a delightful pastry. It is made from a dough of flour, baking powder, salt, and fat which is then deep-fried and served hot. Commonly eaten as a snack or dessert, it can be served with a variety of accompaniments such as honey or syrup. This tasty treat is a popular dish in many Latin American countries.
A relative to the Native American Fry Bread, the Sopaipilla (sometimes spelled Sopapilla) is more puffy and square. In some restaurants in New Mexico, they will bring a basket of freshly made Sopaipillas to the table. Others have them available on their menus for lunch and dinner. Additionally, some eateries will offer them sugared for dessert.
It's a must to taste all three! Plus, it's even better to have multiple helpings. Tia Sophia's restaurant in Santa Fe is a great place to sample the Sopaipillas and many other New Mexican dishes which are featured on this list.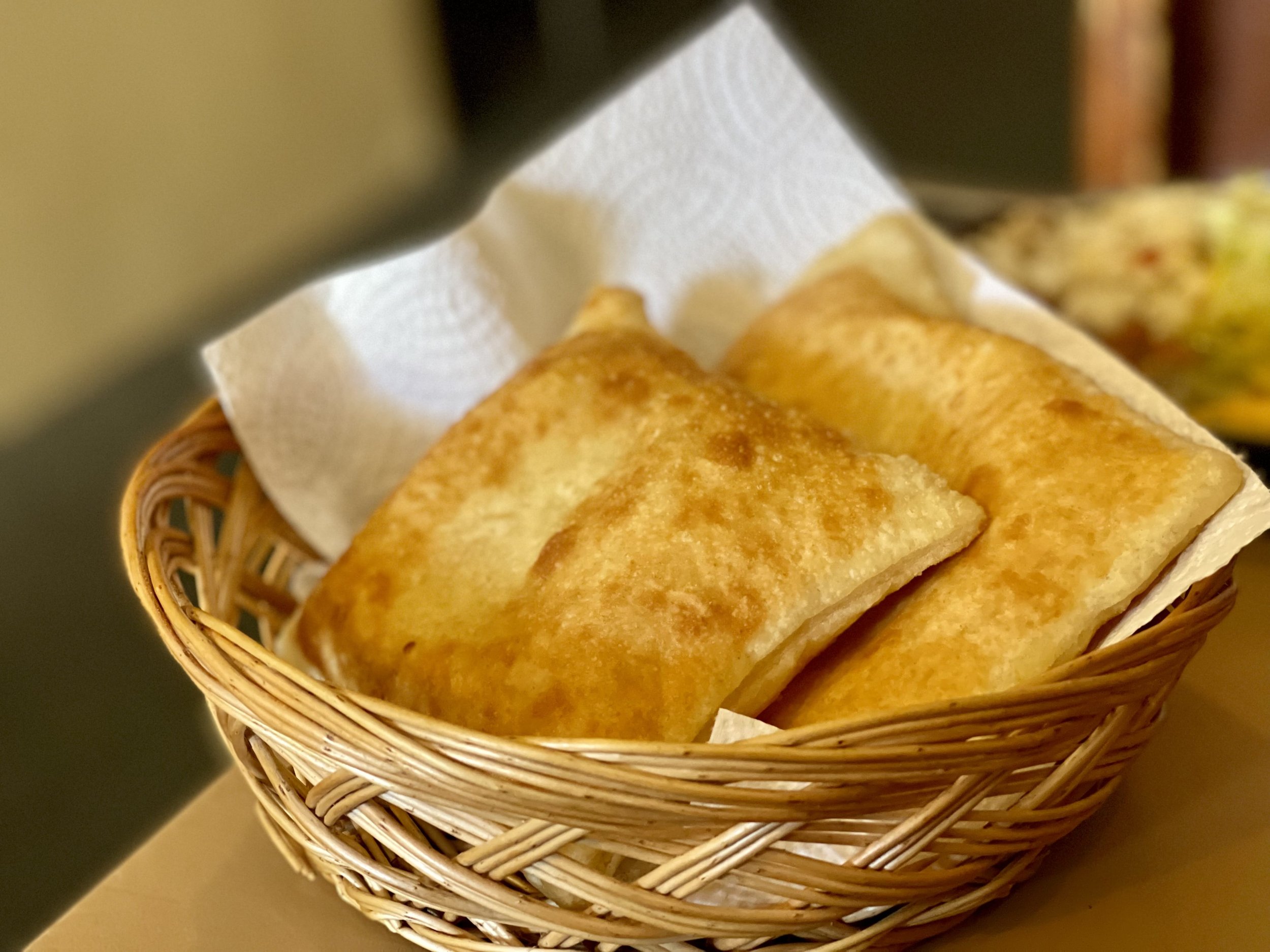 Pie Made from Fritos
Fritos are the base ingredient of this dish, which has been given the moniker of Frito Pie.
The Frito Pie, a relatively recent addition to New Mexico cuisine, was first created in the 1960s at a Woolworths store in Santa Fe that is now known as the Five and Dime on the city's historic plaza. Is it a popular food in New Mexico? Absolutely! Even Anthony Bourdain made a visit to this small store to try out the renowned "pie" that is not really a pie.
This basic recipe only requires three items: Fritos (not tortilla chips, actual Fritos in their bag), chili, and cheese. No bowl is necessary. To prepare, traditionally the bag is cut open, cheddar cheese is sprinkled over the Fritos, and then chili con carne is poured over the top. It is a messy dish meant to be eaten with a plastic fork. Give it a try before you turn it down.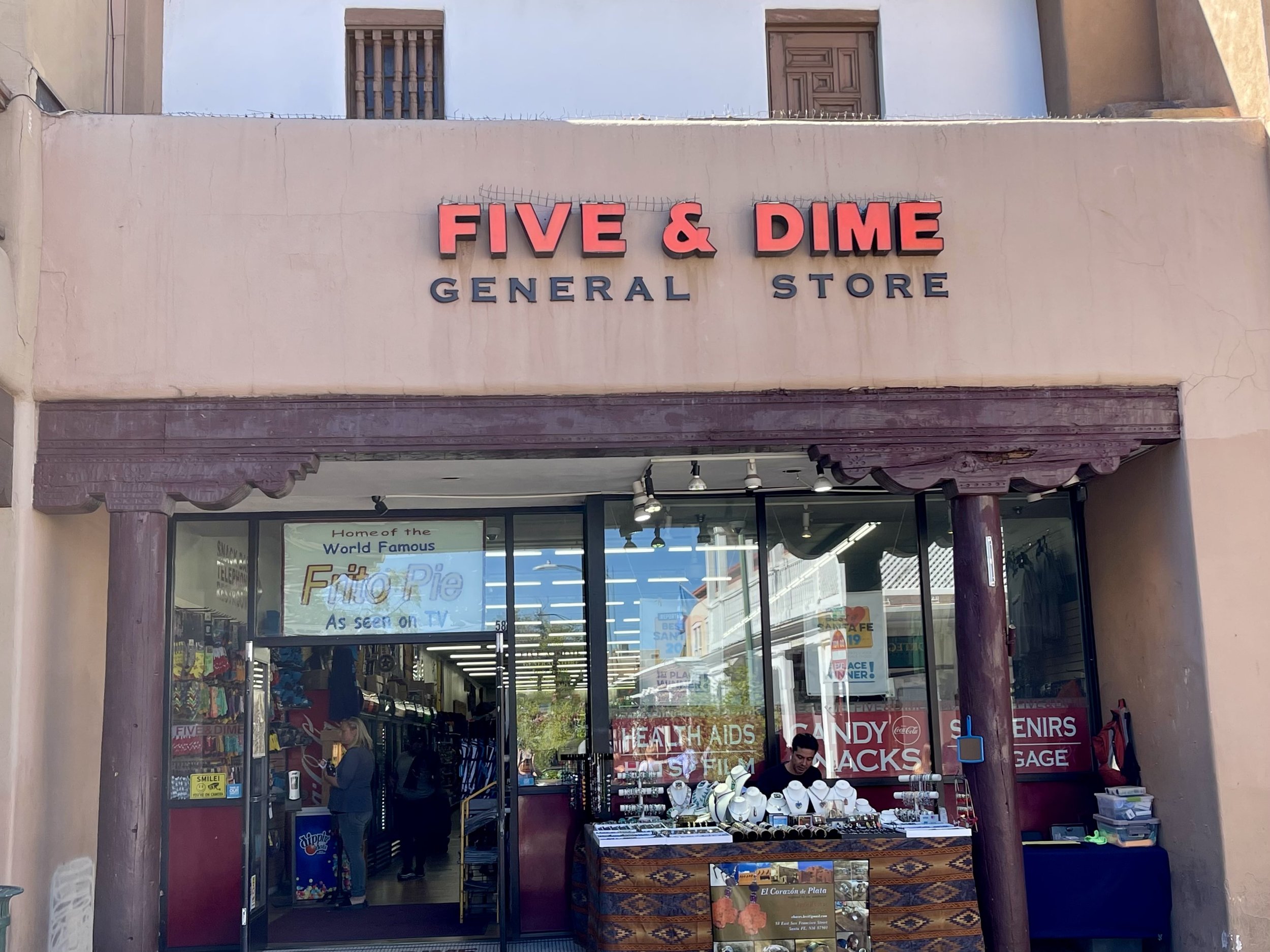 Zucchini Delicacy
Calabacitas is a Mexican dish prepared with zucchini, corn, onion, garlic, and various spices. This tasty treat is a delightful combination of vegetables and seasonings that produces a flavorful result. A delightful medley of zucchini, corn, onion, garlic, and spices, Calabacitas is an appetizing Mexican dish. The mixing of these ingredients creates an unforgettable flavor that is sure to tantalize the taste buds.
The term "Calabacitas" is used to refer to a traditional New Mexican dish that includes "little squash," which is one of the "Three Sisters."
A classic combination of veggies, such as green and yellow squash, onions, and corn, is cooked with green chiles to create a soft side dish or vegetarian filling for burritos and enchiladas. One popular place to find this dish is at El Pinto in Albuquerque, which serves a particularly tasty version.
Pancakes Made of Blue Corn
Recipes from New Mexico that include ground blue corn are available for almost any dish that is usually made with yellow corn. Two of the most common examples are tortillas and corn bread. However, Blue Corn Pancakes take the substitution of corn flour one step further, resulting in a truly singular New Mexican food.
In New Mexico, Blue Corn Pancakes commonly contain piñon, which is the Spanish term for pine nuts. These pancakes tend to be light and fluffy like traditional pancakes, but with a hint of corn and nutty flavor. I have had the most delicious Blue Corn Pancakes at La Plazuela in Santa Fe.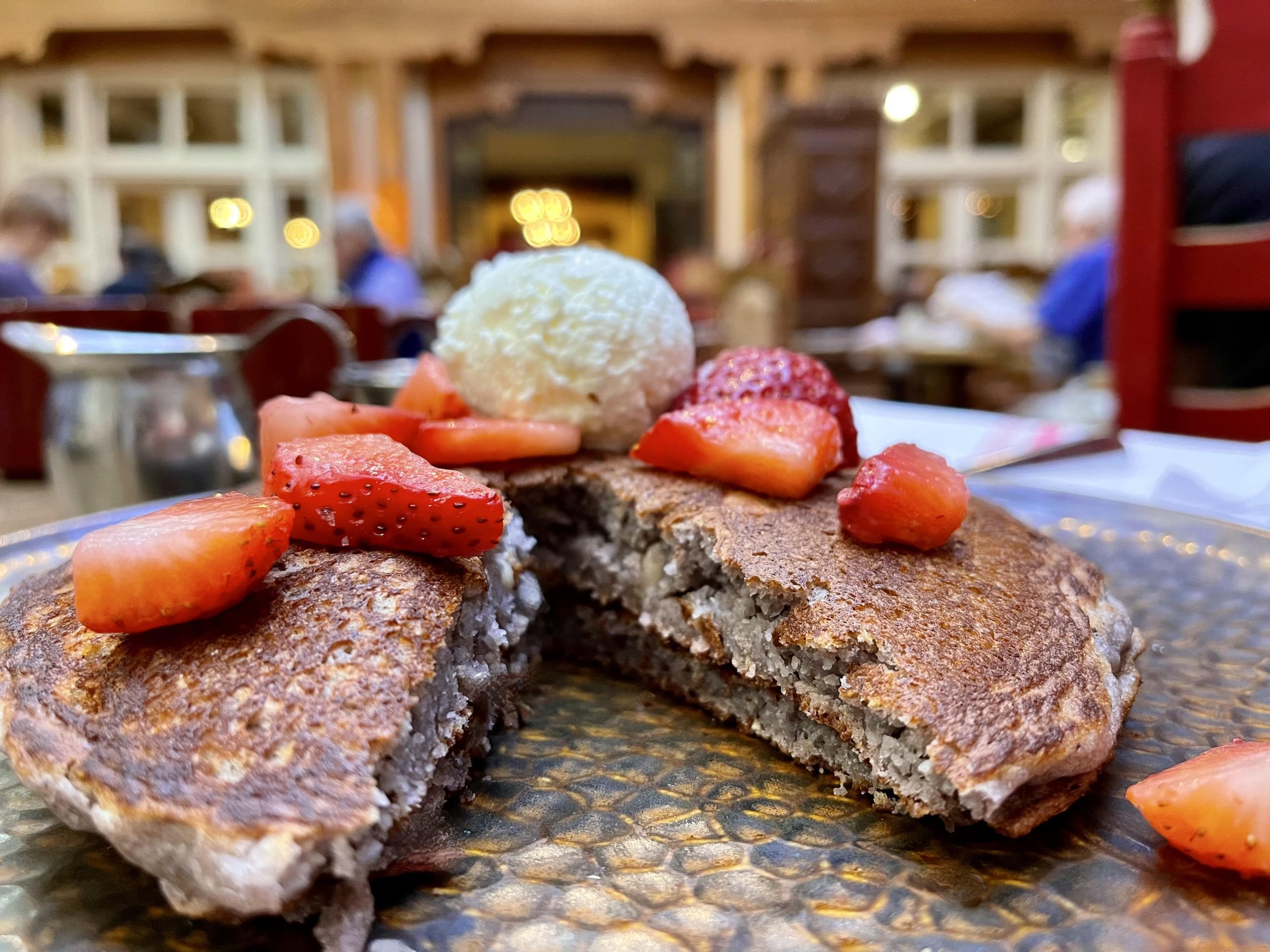 Delicious Tacos
Tacos are one of the most popular foods around the world. People often enjoy them for their great flavor and versatility. They can be filled with a variety of ingredients, making them an ideal choice for anyone looking for a tasty dish. Additionally, tacos are relatively easy to make, making them a great option for those who don't have a lot of time to prepare a meal. No matter what type of taco you're looking for, they are sure to be a hit with friends and family.
The Mexican capital, Mexico City, is renowned for its tacos, although they are plentiful throughout New Mexico. What makes the New Mexican Taco unique is its use of chiles and sauces, compared to those found in Mexico and other parts of the United States.
Tortillas are just as capable of being filled with different ingredients as enchiladas and burritos. In New Mexico, they are often made with blue corn and are almost always soft. To experience Tacos in Santa Fe, La Choza is a good choice, or any other restaurant on the list.
A Unique Cookie
Biscochitos are a unique type of cookie that have been enjoyed in New Mexico for centuries. This treat is made with lard and anise, giving it a distinct flavor that can't be found anywhere else. The history of biscochitos dates back centuries, and the cookie is still enjoyed by many today.
When New Mexico became a state, it was the first to choose a state cookie, the Biscochito (also known as Bizcochito). This cookie originated before the state was established and has been influenced by Spanish, Native American, and Mexican traditions.
The characteristic tastes of Biscochitos are anise and cinnamon, complemented with a slight hint of orange. The consistency of them is much like that of a shortbread or butter cookie. They can be in the form of a star or circle, with or without indented edges.
Outstanding Biscochitos can be found at both Golden Crown Panaderia and Celina's Biscochitos in Albuquerque. I have also had the pleasure of savoring them from food trucks.
Cocoa-based Confectionery
This tasty treat is beloved by people around the world. Chocolate is a type of cocoa-based confectionery that comes in many forms, including candy bars, chips, and powder. The cocoa bean is the main ingredient in chocolate and it is used to make a variety of different products. Chocolate has a unique flavor and texture that people enjoy. It can be enjoyed on its own or used to make other treats, such as cakes and cookies. Chocolate is also used as an ingredient in many different recipes, such as desserts, beverages, and sauces. Chocolate has been enjoyed for centuries and continues to be a popular treat.
The Land of Enchantment has a long history with Chocolate, as native New Mexico tribes have been drinking it for over 1,000 years. This popular food is also well-known in France, Switzerland, and Belgium, but it is perhaps even more iconic in New Mexico. The New Mexico Department of Cultural Affairs even suggests that this is the origin of the state's nickname.
The state of New Mexico is known for its unique chocolate creations crafted by local chocolatiers utilizing local ingredients such as chiles, piñon, and prickly pears. Santa Fe specifically has created a chocolate trail to emphasize the significance of chocolate in the culture of New Mexico.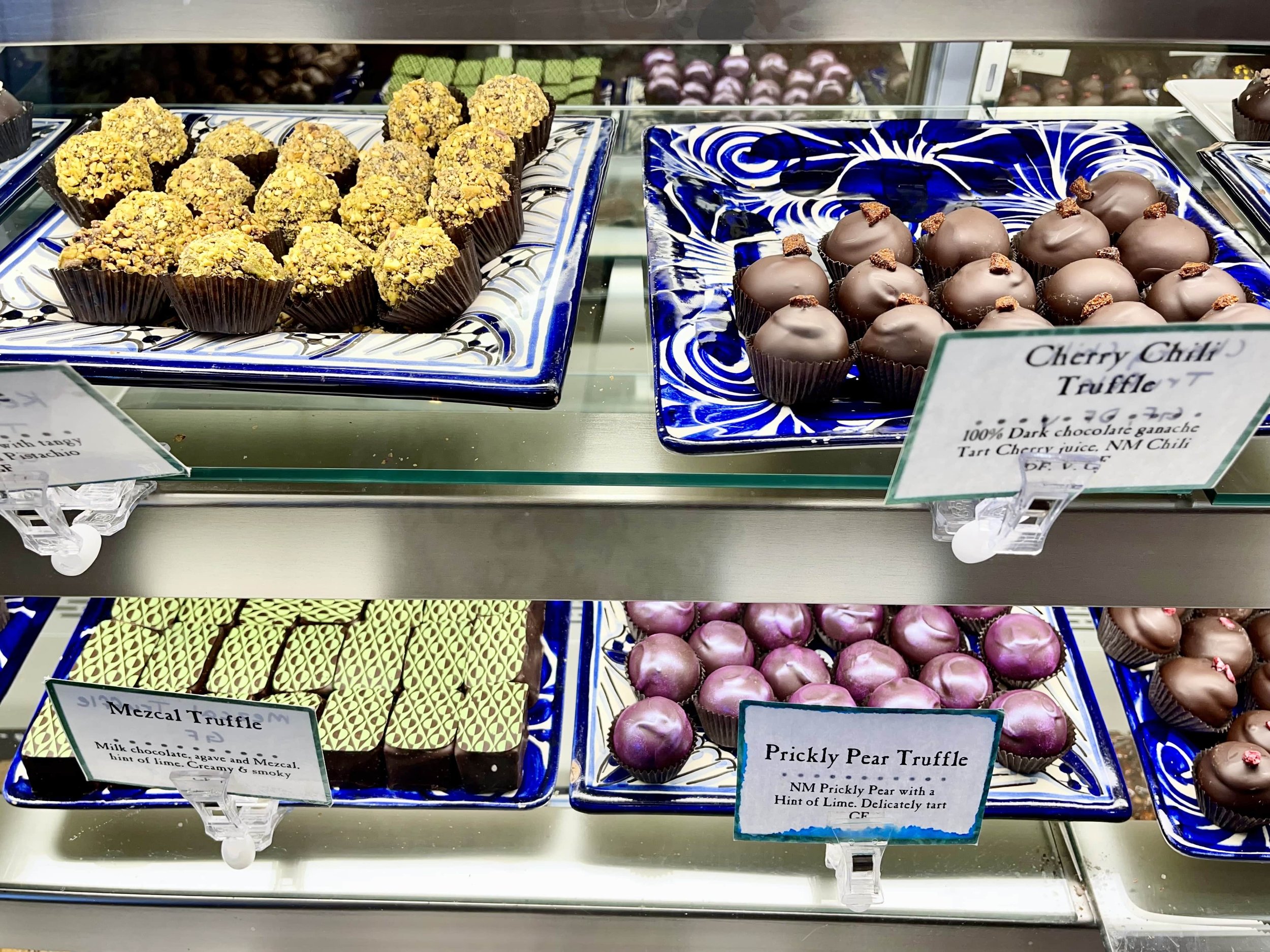 Searching for the Finest Cuisine in New Mexico
We have provided some great dining options in New Mexico and hope you can check them out. Though I have a fondness for the local eateries, there are some upscale restaurants worth a visit for a treat. The food is not typically New Mexican, but is a unique blend of flavors inspired by the region.
In Santa Fe, celebrity chef Mark Miller of the Coyote Cafe is credited for pioneering the use of local ingredients in a creative fashion. At Sazon, the award-winning Chef Fernando Olea serves up scrumptious Oaxacan-influenced New Mexican cuisine. And if you're in Albuquerque, a dinner at Los Poblanos will make for one of your most unforgettable food-related experiences in New Mexico.